The team at the Petersfield Post and Herald is mourning the loss of one of its own, Jon Walker, who has died after a short illness aged 64.
Jon, a Petersfield man through-and-through, was known for his exceptional dedication to the community over several decades and devilish sense of humour.
He died at home in the early hours of Sunday morning, just a month after being diagnosed with terminal cancer.
Ten days earlier, around 100 well-wishers braved the cold and rain to attend a candlelit vigil in The Square, Petersfield, after the Post chief reporter's illness became public knowledge.
Away from the Post, Jon stood for election to East Hampshire District Council in 2019 in St Peter's ward and came within just eight per cent of bagging a seat on the council.
He also presented a weekly podcast, The P Pod, with friend and Petersfield Shine Radio presenter Joff Lacey.
Jon tied the knot with his long-term partner Milla on March 10, afterwards appearing briefly at a reception at Petersfield Rugby Club, and is also survived by his two teenage sons and daughter, and father.
Daniel Gee, head of content at the Post and Herald, said: "Jon was a phenomenal journalist, a real social warrior and a passionate advocate for Petersfield and the surrounding area.
"You couldn't sneeze in Petersfield without this man knowing about it, and god help you if he thought you were up to no good…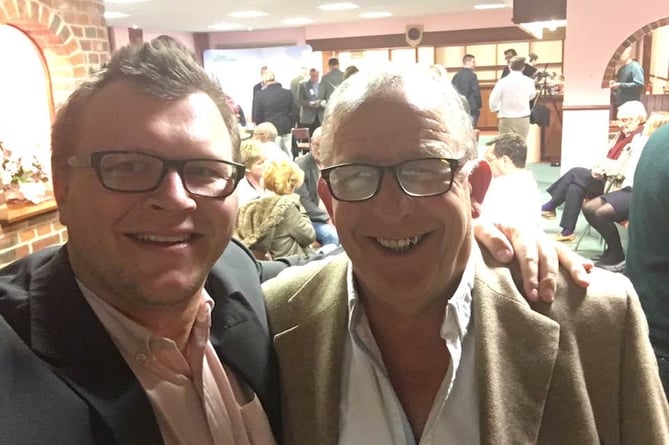 Jon Walker (right) and Daniel Gee at the East Hampshire election count at Petersfield's Festival Hall in 2019
(Daniel Gee)
"The outpouring of love for Jon since his illness became common knowledge is a testament to the man he was, and I know it meant a lot to him.
"We mourn the loss of a brilliant, beautiful soul who will always be remembered for his contribution to the community he served.
"Thanks for everything JW. We'll carry on the good fight in your honour fella."
The Post and Herald extends its deepest sympathies to Jon's wife, children, family and loved ones, and hopes to share funeral details in due course.