PRET A Manger is the latest major high-street chain to come forward with plans for a unit in Farnham's Brightwells Yard development.
Founded in 1983, the cafe and takeaway chain currently has more than 460 shops in the UK, with 324 locations in London alone.
Last week, Pret submitted plans to Waverley Borough Council for the frontage of its new shop in Brightwells' Building D1 Unit 9A. These plans can be viewed here.
It is the latest retailer to submit plans for a new unit at Brightwells – although the only retailers confirmed officially by developer Crest Nicholson to-date remain M&S Food and Seasalt, as well as Reel Cinemas.
A Crest spokesman told the Herald in March: "Currently there are a number of very exciting commercial tenants going through the legal process, which means Crest Nicholson is legally obliged not to disclose any information at this time."
But the Herald's Bricks & Mortar Reporter, David Howell, has uncovered plans for a number of further incoming retailers.
His latest column for the Herald reported the following:
My assumption is Coppa Club rather than The Ivy restaurant taking Brightwell House.
I hear The Ivy do have their sights set on having a restaurant here but haven't found the right location yet.
Crest's planning consultant has submitted an application to change the status of Brightwell House for the use of one restaurant business from two businesses.
Formerly the proposal was for one business to have front of house on the ground floor and the second business to have dining spaces on both floors.
The kitchen areas for both businesses would have been tiny – I am thinking smaller than a single-car garage.
As reported in the Herald last week, Coppa Club have recently opened at the former Georgian Hotel on Haslemere High Street. This branch will be a completely different business model, with no residential rooms, but nevertheless brings another respected food restaurant rather than pub to the town.
From all accounts, the internal surroundings within the Coppa Club branches elsewhere are great.
It will be direct competition for Côte.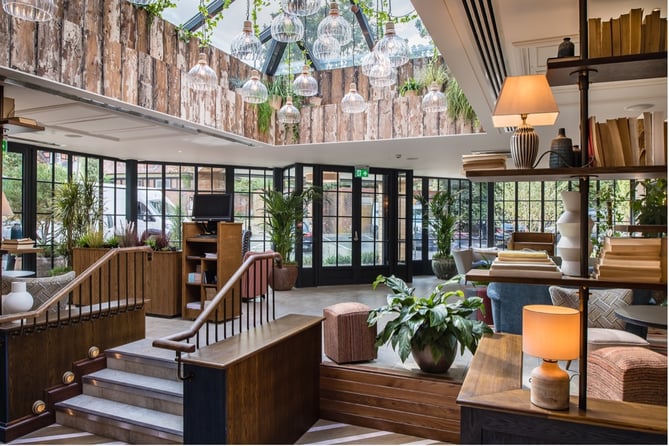 An existing Coppa Club restaurant in Streatley-on-Thames
(Coppa Club)
Heaven's Kitchen have been in the frame for some time – 'worst-kept secret' someone told me. I have heard rumours that Heaven's Kitchen plan to remodel their business in their East Street building – someone mentioned looking to provide a restaurant specialising in fish, something that many towns now have but Farnham doesn't.
Planning applications have been submitted for a shopfront and signage for the sour dough pizza company Franco Manco. They have some 50-plus branches at the moment, the nearest currently being in Guildford.
I have heard a rumour that a street food business is taking space which I have mixed feelings about. Veena's Kitchen, which one could consider a street food restaurant, has proved very popular with great food.
I haven't visited but have heard good things about Hermanos Mexican Street Food at The Shed in Bordon.
I haven't been able to glean what cuisine or the name of the interested party, but as soon as I do…
I am not at all surprised that a couple of coffee shops are interested, although I am scared the further dilution of business will eventually cause one or two existing ones to have to leave.
Do we need another nail bar, I ask myself, although I foresee at least one hair salon coming forward.
Do we need another gym? Plans have been submitted, but Farnham seems to have a glut of them already, in my opinion – some, I hear, already discounting membership costs.
I am both surprised and pleased a dental surgery is taking space. With the thousands of new residents coming to Farnham in the next five years, it will be sorely needed. Is a doctor's surgery another possibility? I think unlikely, and they will choose to locate at the hospital given space being available.
Charters estate agents moving to the Brightwells development makes sense, although they would be away from the main hub in Downing Street.
Lion & Lamb Yard relocations
It is good to see confirmation that Joules are moving to Brightwells.
Why on earth Crest couldn't be more open with the Herald and Farnham residents I don't know. It is disappointing that Surrey were dismissive when I asked whether they were concerned at the impact that poaching businesses from the town will have on the existing shopping areas.
Whistles have still to declare their intended relocation, but two sources have told me they are moving.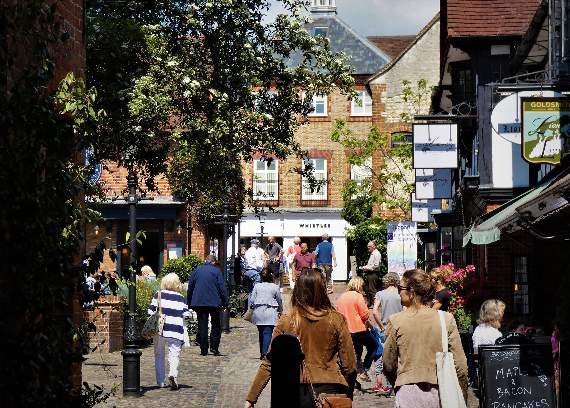 Lion & Lamb Yard
(Lynne Harris/Love Farnham Calendar)
Anyway, we now have a better idea of who will be moving into Brightwells.
'Big Bang' or a little whimper?
One interesting point I was told was that Crest are already behind to meet their 'big bang opening' day in November.
The incoming businesses will want at least a couple of months to fit out, from what I hear.
Will we hear soon that the opening has been put back to January or February?