The former president of the Haslemere Rotary Club has celebrated the end of his two years in the role with a barbecue and presentations to those who serve the community. 
Paul Mills presented Dianne Bennett with the Paul Harris Award, the highest accolade the Rotary can give. For decades, Dianne has organised the autumn charities fayre in Haslemere Hall. 
Fi Hewkin of Haslewey Counselling Service received a £4,000 cheque from Mr Mills. 
Fi said there were many people who needed professional help and this cheque would help with that.
David Whitby from the Guildford Prostate Cancer Charity received a £4,000 cheque.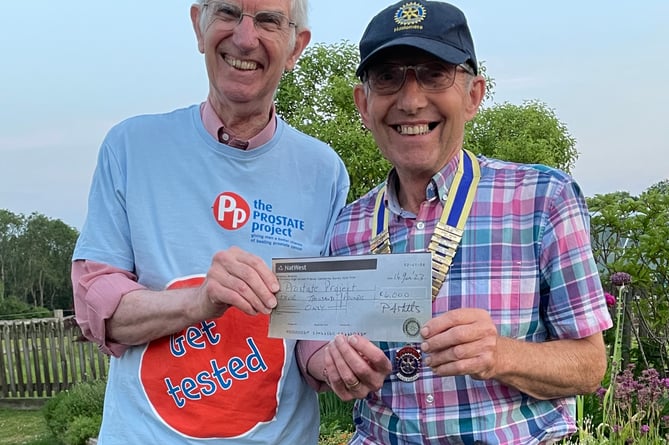 Paul Mills presenting a £4,000 cheque to David Whitby of the Prostate Project
(Haslemere Rotary Club )
He said his charity helps men get tested so more will survive through early detection. 
The charity is planning to provide a mobile testing bus that will give easy access to local communities.
Finally, Mr Mills handed over the president's chain of office to Ken Griffiths. Ken praised Paul's successful leadership over the past two years and said he would be a hard act to follow.
The Rotary Club's mission is to serve the community, make friends and have fun through volunteering. They have raised more than £100,000 for charities.