Field Marshal Lord Bramall's long-delayed memorial service was held last Thursday, bringing together members of the British royal family and top military officials to pay their respects to the decorated war veteran and long-time Crondall resident.
Held at Winchester Cathedral, the service was attended by the Duke of Kent and the Duchess of Gloucester, representing the King and Queen Consort respectively. The congregation also included Lady Diana Brittan, the widow of former Home Secretary Leon Brittan, and former Tory MP Harvey Proctor, both of whom were – like Lord Bramall – subject to false allegations made by VIP paedophile ring fantasist Carl Beech.
Lord Bramall, who died in November 2019 at the age of 95, was remembered by his son, Nicolas Bramall, who spoke of his father's "extraordinary life" as a D-Day hero who went on to become head of the Armed Forces, yet remained "down to earth and without a hint of pomposity."
Mr Bramall also spoke of the "appalling ordeal" that his father had to endure after being accused of heinous crimes in 2016, which he described as a "bizarre and disgraceful story". Despite the allegations, Lord Bramall showed "extraordinary courage and dignity throughout", his son said.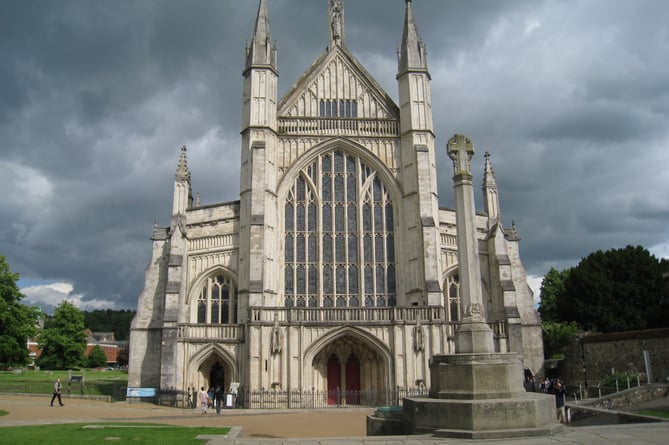 Winchester Caathedral, The West Front
(Spencer Means)
The allegations against Lord Bramall were part of Scotland Yard's Operation Midland, which was later found to be based on false evidence provided by Beech. In July 2019, Beech was sentenced to 18 years in jail for perverting the course of justice and fraud.
During the service, Lieutenant General Sir Peter Duffel, former Commander of British Forces in Hong Kong, spoke of Lord Bramall's accomplishments during his military career, including his role in the D-Day landings and his service as Chief of the General Staff during the Falklands War. Sir Peter also highlighted Lord Bramall's moral courage in speaking out against the "folly" of the Iraq War.
Field Marshal The Lord Bramall of Bushfield KG GCB OBE MC, known as "Dwin" to his friends, was remembered as a "noble and gallant" man who displayed "patriotic courage" throughout his life.
The service ended with the Band and Bugles of The Rifles playing songs and tunes from the Second World War, including We'll Meet Again and Wish Me Luck as You Wave Me Goodbye.