With the 79th anniversary of D-Day on Tuesday (June 6), Peeps salutes a canine hero who played his part in supporting troops destined to take part in the Normandy landings of the Second World War. 
Hambone Junior was a brown and white terrier adopted by American soldiers billeted in Alresford during the build-up to Operation Overlord – the largest seaborne invasion in history that began the allied liberation of Europe.
The dog, who was apparently owned by a female friend of some of the troops, lived at the camp of the 47th Infantry Regiment, 9th Division, US Army in The Dean.
He was originally called Whisky, but the GIs renamed him in honour of a cook nicknamed Hambone, according to some sources, although others claim it was in recognition of his taste for leftover rations.
Being a terrier – or possibly of mixed breed – he would no doubt have been an entertaining, playful character who would have kept the men company and helped keep their minds off the battle that lay ahead.
Sadly, though, the scruffy little dog who ran alongside them during training did not make it to the beaches of Normandy. By a cruel stroke of fate, he was run over by a "Deuce-and-a-half" (a two-and-a-half-ton army truck) as mobilisation of his comrades got under way.
Hambone Jr had become a mascot for the 47th and his adopted owners were naturally upset by his death.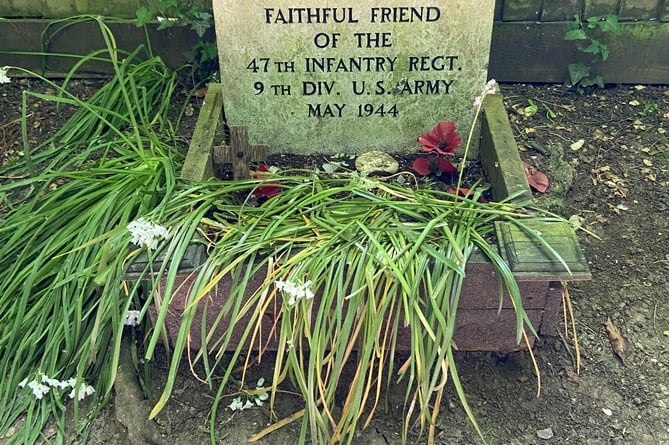 Hambone Jr's grave beside the Arle Valley Trail in Alresford
(Daniel Gee)
Knowing the dog was much missed, Les Harness, who had a smallholding at Northington and was one of the many local people to have befriended the Americans, presented them with a puppy.
They named the pup Spider and took him with them when they marched down to Southampton in June 1944 to embark for France.
After the troops left, Spider was never seen again and it is believed he may have accompanied them all the way across the Channel. 
As for Hambone Jr, he is buried besides the River Arle, near The Dean in Alresford. His grave was originally marked by a wooden cross but by 1962 it had rotted away and the Alresford community replaced it with a memorial stone.
The stone reads: "Here Lies Hambone Jr, faithful friend of the 47th Infantry Regt, 9th Division US Army, May 1944." It was unveiled by the American Vice-Consul in Southampton at the time and has since become a local landmark respected as a war memorial.
When, in 1994, some GIs returned to Alresford for an event to commemorate the 50th anniversary of D-Day, two old comrades laid a wreath at the grave. Now flowers are regularly left there by passers-by and poppies are placed there each Remembrance Sunday.
Hambone Jr, a little dog we know little about, is not forgotten but remains as a memory of friendship between two countries.