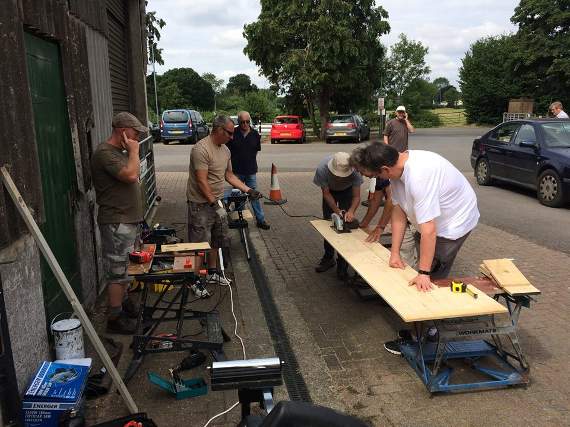 Volunteers gather to help disappearing swifts
Subscribe newsletter
Subscribe to our email and get updates right in your inbox.
VOLUNTEERS from the Tice's Meadow Nature Reserve, known as the Tice's Crew, joined at Badshot Lea Village Hall to build nest boxes for swifts to use in future years after their long journeys to Africa for the winter.
The reserve is a popular place to see swifts feeding on insects above the water in the summer months.
According to research carried out by Tice's Crew, swifts have declined by 50 per cent in the last 25 years partly due to modern building methods.
Swifts nest in houses. New properties are sealed to save energy but stop birds finding nest holes, and older properties often have their holes filled to keep in heat or sometimes to keep wildlife out.
The Blackwater Valley Countryside Trust has started a project, entitled 'Save our amazing Swifts', to find where the birds nest and help to expand local populations.
The Tice's Crew are enthusiastic supporters of the project as nearby Aldershot is one town where many breeding swifts can still be seen on summer's evenings.
The project is also asking local planning authorities to include provision for swifts in their neighbourhood plans.
As well as asking builders to include 'swift bricks' in their new buildings. These are available from under £20 and simply take the place of ordinary house bricks.
Richard Horton of the Tice's Crew, said: "We have a great nature reserve here at Tice's Meadow and we see many swifts.
"We heard of the trust's project and know we must do something to help these special birds find nesting places after the big decline.
"Getting our members together to make nest boxes gets them all involved and will help us put them in the right places to attract swifts next year."
The project is led by Colin Wilson, trustee of the Blackwater Valley Countryside Trust.
He said: "These birds are incredible, flying without touching down for two or three years before they nest. They feed, mate and sleep on the wing.
"They are a true spectacle as they 'scream' through the air in the three months of the year they share our towns and villages, where they rely on our buildings to find nesting places.
"Our project will find where the swifts are and help to build out from those places with nest boxes. We also aim to create new swift colonies by including swift bricks in new properties as a matter of course.
"This has worked in many places so it would be good to have it here in the Blackwater Valley. We know the Tice's Crew will help and support us."
Comments
To leave a comment you need to create an account. |
All comments 0