Stars of USS Pinafore are out of this world...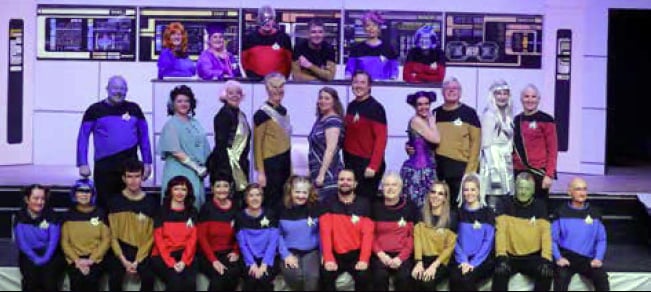 The cast of USS Pinafore
(Tindle )
Subscribe newsletter
Subscribe to our email and get updates right in your inbox.
AS THE cast gleefully roared at the end of USS Pinafore: "We're back!"
And how! And they could have chosen an easier return after a pandemic-enforced break than the reworked Gilbert & Sullivan comic opera HMS Pinafore, now taking place in space, rather than on the high seas.
It's a tale of duty and social standing, lampooning the British class system, and poking fun at the rise of unqualified people to positions of authority.
And there's a lovely twist to the plot at the end to ensure – naturally – there's a happy ending all round.
This space age performance by FAOS (formerly Farnham Amatuer Operatic Society) gave the costume department and set creators the chance to have fun – as the crew emerge from the Star Trek-style sliding doors, many looked as if they had survived an explosion in a make-up factory.
It adds hugely to the fun of the comic opera – and FAOS leap into the galactic challenge with gusto.
How they manage to find such talent in our small, Surrey town continues to beggar belief.
Take a bow Nigel Morley, simply magnificent as Sir Joseph Porter, whose advances towards the captain's daughter Josephine are spurned.
His comic timing, his many expressions and deadpan delivery of the sort of sheer hypocrisy rarely seen outside of Downing Street were a joy.
Richard White as Dick Deadeye shone, and 'Buttercup' Alexandra Yates stole the stage whenever she appeared.
Sara Burnie and Kevin Sampson are impressive as Josephine and Ralph Rackstraw, and opera veteran Geoff Vivian is a remarkable Captain Corcoran.
Hats off, too, to director Heather Legat, the production team and the live orchestra – they put in so much work to make everything seem so effortless.
But to pick out individuals takes away from the FAOS strength – it's all about teamwork.
On the stage and off – especially during a pandemic – FAOS manage to provide a lovely, homely atmosphere.
While audiences had to wear face masks for the first two nights, from tonight (Thursday) through to the end of the run on Saturday (7.30pm start, with a 2.30pm matinee too on Saturday) they won't be needed.
As FAOS said themselves, it's a fun, safe, night out. Try it. It's a lot more entertaining than Star Trek.
Comments
To leave a comment you need to create an account. |
All comments 0