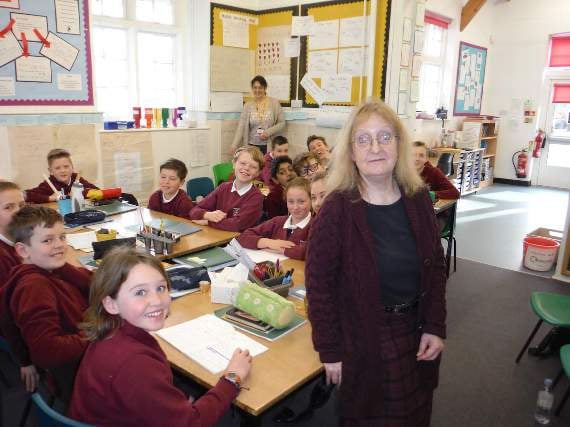 Subscribe newsletter
Subscribe to our email and get updates right in your inbox.
GOLD class at Grayshott Primary School struck lucky with an inspirational visit by the author of a best-selling children's book that has been adapted as a musical, play and film.
Year 6 pupils were thrilled when Michelle Margorian appeared to tell them more about their class text, Goodnight Mr Tom.
The author of the 1981 classic – about an abused young Second World War evacuee finding a loving new life – shared the artwork for different book jackets over the years.
She spoke about the reason for the changes when the book was translated into many different languages and how her novel was turned into a screenplay, describing the challenges and opportunities the screenwriters faced in making her ideas come to life using images and music.
She also discussed the musical, in which a great deal more was made of Willie Beech's mother's character.
The author focused on particular scenes pupils remembered and explained why she chose to include them and what she hoped the reader would learn from them.
She read aloud from her book, shared lyrics she had written for the musical and played the score that had been composed for the BBC adaptation.
The author also answered questions about her inspiration, her favourite characters and if she knew how big her novel would become.
Headteacher Sharon Pritchard said: "We would like to thank Michelle for coming and Year 6 class teacher Rachel Spiller for organising it."
Comments
To leave a comment you need to create an account. |
All comments 0