The Herald Digital Archive Project is seeking a new volunteer to help us share more than 130 years of local history immortalised in the pages of the Herald with a wider audience.
And with King Charles calling on the public to take on volunteering roles to mark the final day of the Coronation celebrations today, there is no better time than now to get involved!
The Herald Digital Archive Project team, with the support of volunteers, has already completed an inventory of more than 350,000 pages of newsprint which it hopes to digitise and make available to the public.
The project's initial priorities are to identify opportunities for community engagement and local events, create a plan for local schools and colleges, and determine how the community will interact with the archive.
These goals are aligned with the National Lottery Heritage Fund's key requirements for a successful grant application, which include community engagement and benefit, particularly for hard-to-reach groups.
The Community Engagement Lead will articulate the benefits of the project to various segments of the community, including businesses, schools, colleges, the elderly, and hard-to-reach groups.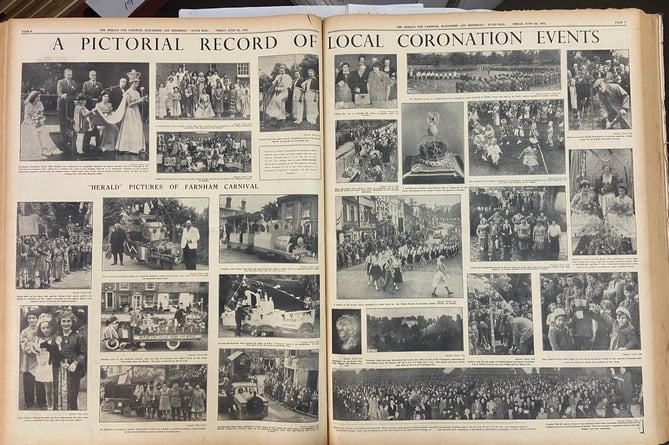 The Herald's 'Pictorial record of local coronation events' to mark the crowning of Queen Elizabeth II in 1953
(Farnham Herald)
They will develop an engagement plan and lead activities to execute it, including recruiting and deploying volunteers to bring the archive to life through museum exhibitions, local fairs, and events.
The project recently held its first community outreach event as part of the Farnham Literary Festival – and have further events planned, including workshops, stalls at local fetes and fayres, as well as archive tours as part of this September's Heritage Open Days in Farnham.
But as the project ramps up, the team is keen to get on board a passionate volunteer to bring the Herald archive to life and help identify further opportunities for community engagement.
In addition to the Community Engagement Lead role, the project team is also seeking to attract a Fundraising and Bid Management Lead to develop a plan and timeline for raising the required funds, working with the Community Engagement Lead to support outreach through local groups and lead the bid writing and submission.
They will identify potential funding sources, such as local businesses, community fairs and events, charitable bodies, and National Lottery funding, and determine the relative percentages for each source.
Interested parties are encouraged to email a letter of interest and CV, or any questions, to [email protected]