Haslemere's Jake Meyer has summited Everest – again. 
At 8am on May 23, the record-breaking British mountaineer successfully summited Everest for a second time. 
In 2005, at 21, Jake became the youngest man, and youngest Briton, to ever climb Everest.
Jake Meyer in -45 degrees at Everest's summit
(Jake Meyer)
His recent summit makes him one of very few people who has climbed the mountain from both the north (Tibet/China) and the south (Nepal).
His return to Everest coincided with the 70th anniversary of the first ever Everest summit, on May 29, 1953. 
Coincidentally, 1953 was also a coronation year. Jake saluted King Charles with his own basecamp coronation celebration – complete with Union Jack bunting and a giant flag of the King.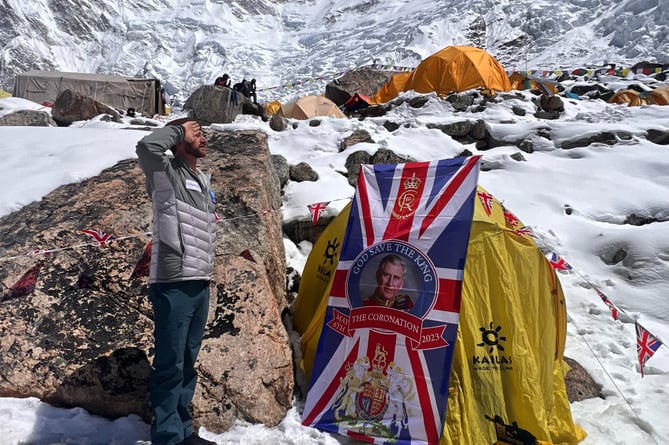 Celebrating the Coronation in Kanchenjunga Basecamp
(Jake Meyer)
Mr Meyer said: "For the last 18 years, when asked if I would climb it again, I said don't be ridiculous. But the lure of Everest just became too great.
"I wanted to know if I could still do it, almost 20 years later." 
Following in the footsteps of Edmund Hillary and Tenzing Norgay, the first people to ever conquer Everest, Mr Meyer said the new route was like climbing a different mountain. 
It took Jake 64 days to summit the first time; his second saw him get to the top in just 50 hours. 
To acclimatise for Everest, Jake spent six weeks on Kanchenjunga, the third highest mountain in the world. Sadly, while he was on Everest, one of his Kanchenjunga team members died on the way down after summiting Kanchenjunga. 
"German mountaineer Luis Stizinger was an amazing climber and it just goes to show that nobody's bullet-proof."
Mr Meyer added: "For me, coming home safely is the only measure of success. I never celebrate at the top, it's a nice moment, but the mission is only accomplished when I'm home with my wife and daughters."
This year's season holds the record for the most climbing-related deaths on Everest – 17 in just six weeks.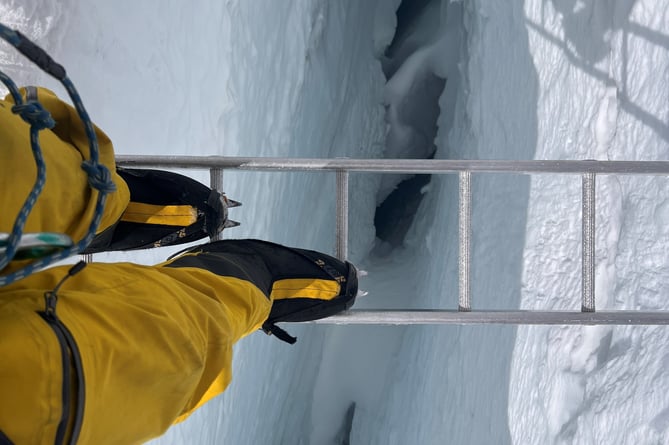 Don't look down... crevasse crossing in the Khumbu Icefall
(Jake Meyer)
When asked about the infamous queues often pictured on Everest he explained: "Although there were a few sections where we did get caught in some slow-moving queues, on the whole it wasn't too bad, and really didn't pose a problem for us.
"We chanced our luck on our summit day, and went up despite the weather not being ideal, the -45 degree Celsius chill and high winds meant not many others were doing the same.
"This meant that we ended up having the entire summit ridge (normally the site of those horrendous photos of queues) entirely to ourselves – which was magical, and a very special experience."
Jake was shocked, however, by the amount of coke bottles and sweet wrappers he found on the mountain.
To give himself some good luck, he made a habit of picking up any rubbish he found and stuffing it down the gaiter of his boots.
When asked if he would go back for thirds, Mr Meyer said: "Never say never – but I'm not sure my wife will let me go a third time."
Mr Meyer hopes future expeditions will include his three daughters.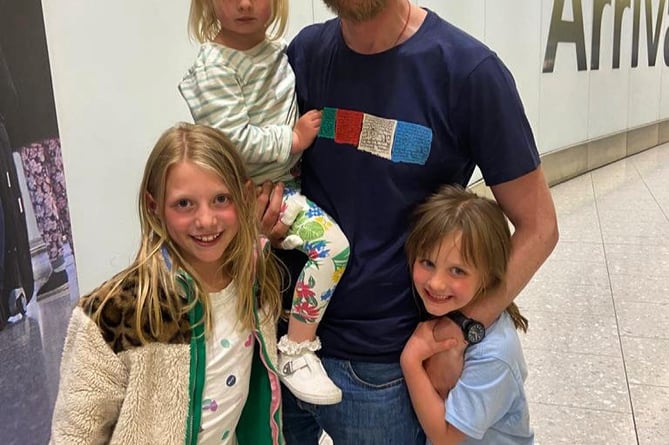 Mission accomplished: Jake Meyer home safe with daughters Ottie, Sienna and Poppy
(Jake Meyer)