Confronted with a bill of £45 for breakfast and £85 for Sunday lunch, my usual (and I think reasonable) reaction would be: 'HOW MUCH?!'
And yet. If invited to try out said £45 breakfast and £85 Sunday lunch in the service of informing our loyal readership, I may be more sympathetic. The things I do for this job...
And so we rolled up the drive of Four Seasons Hotel Hampshire on a sunny Sunday morning in July – and quite a drive it is too.
Dogmersfield Park has wined and dined the country's upper crust since a palace was first built there by the Bishop of Bath and Wells in the 13th century.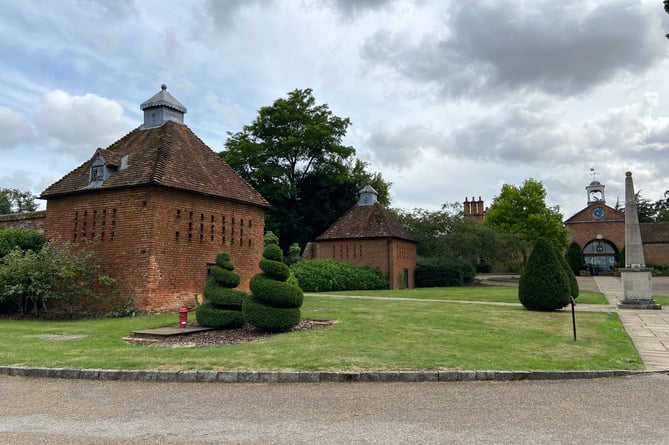 Four Seasons Hotel Hampshire possesses the oldest dovecote in Hampshire, dating back to 1570
(Daniel Gee)
It later became a popular haunt of Henrys VI, VII and VIII, and the latter wrestled it from the Church in 1647 and granted it to his Lord Chancellor, Thomas, Lord Wriothesley. In a link to those times, a dovecote built during Wriothesley's occupation still overlooks the modern-day Grade I-listed manor house.
This manor, built in 1748, has housed the luxurious five-star Four Seasons Hotel since 2005 and stands proud amid 500 acres of picturesque Hampshire parkland. It is quite a sight as it emerges towards the end of the estate's long driveway.
We park up – though naturally, valets are available – and stroll through the reception and hallways adorned with stunning seasonal floral arrangements on our way to the Wild Carrot restaurant, where we are booked in for our first meal of the day, a Champagne Hampshire Breakfast Buffet.
This opulent morning affair delivers a seemingly never-ending array of breakfast options, from the traditional Hampshire-sourced cooked breakfast to north-African inspired shakshouka and Middle Eastern falafel and hummous. There is also a table of beautifully presented fresh fruit and juices, and an island of continental options – all complemented by the allure of Louis Roederer 242 Collection Champagne.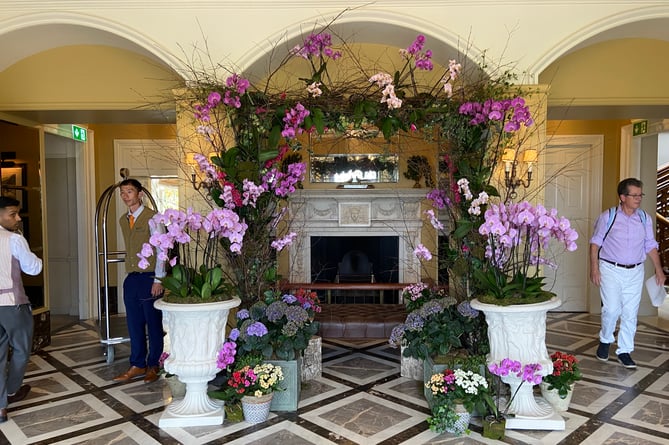 Extravagant floral displays decorate every room at hallway at the Four Seasons Hotel Hampshire
(Daniel Gee)
It's not cheap. But I challenge you to find a better breakfast spread. As a special treat for breakfast (and brunch) lovers, it takes some beating...
Trying hard to maintain some dignity, we break away from the buffet and head to the hotel spa for some luxurious lolling about. After collecting our robes, we while away the morning in the steam room and sauna, and swim a few lengths before floating outdoors to the 'vitality pool' – complete with water-massage jets and sun terrace. Bliss.
As our lunch booking edges closer, we still haven't quite regained our appetites so perch at another jewel in the Four Seasons' crown for an aperitif.
No visit to the hotel would be complete without a trip to the Wild Carrot's wonderfully atmospheric cocktail bar, set on an island in the restaurant's lounge area and adorned with classic brass fittings and enchanting lighting, overlooking the sprawling park beyond.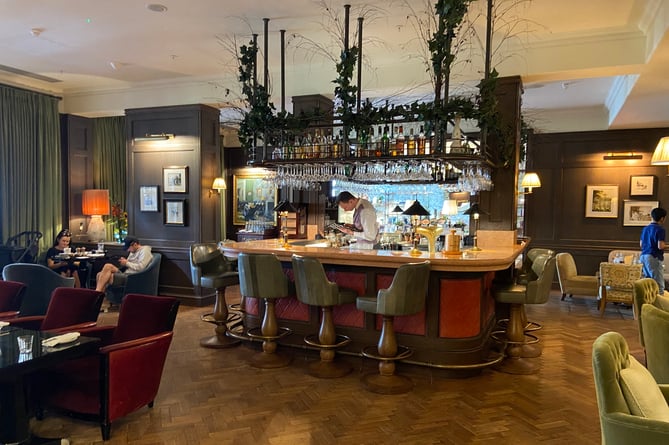 The Wild Carrot's enticing cocktail bar
(Daniel Gee)
Mixologist Surinder takes us through the cocktail menu, which is regularly re-thought to match the seasons or a new theme, such as, on this occasion, the 'seven moods of drinking'.
I pitch for the Bucolic, a twist on the classic espresso Martini with the addition of aged rum infused with coffee grounds and frangelico, while my wife Kate goes for the Social, described as "fun, frivolous and designed to share" and a twist on the pornstar Martini with vanilla-infused Espolòn Tequila. 
Next up is the main event; the £85 Sunday Farmers' Market Lunch and finally an answer to that lingering question: is it all worth it?
The buffet before us was a feast for the eyes, with vibrant salads, tantalising starters, an enticing array of main courses and an island of desserts and cheese – all with a distinct emphasis on seasonal Hampshire produce.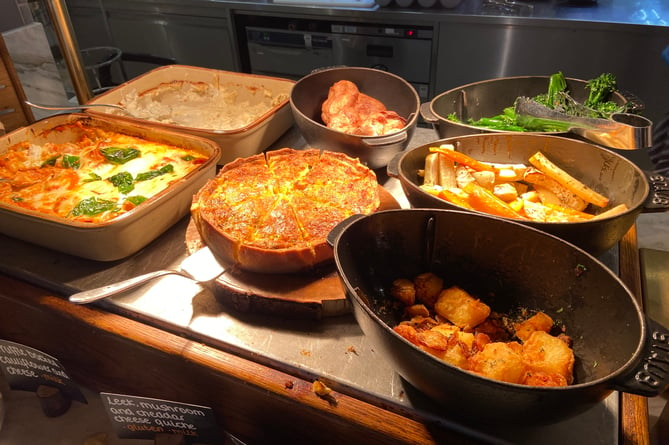 Just some of the 'trimmings' on offer at Four Seasons Hotel Hampshire's Sunday lunch buffet
(Daniel Gee)
The radicchio and Oxford blue cheese salad, adorned with candied walnut and truffle dressing, was a personal favourite, while Kate went for the classic prawn cocktail – spiked with chilli and chives.
We followed this with wholegrain mustard-roasted leg of lamb and melt-in-the-mouth roasted dry aged rib-eye beef, accompanied by all the trimmings you'd expect and more; all impeccably cooked and seasoned.
Vegetarian diners were not forgotten either, as the baked spinach and ricotta shell pasta with truffled bechamel proved to be a popular option.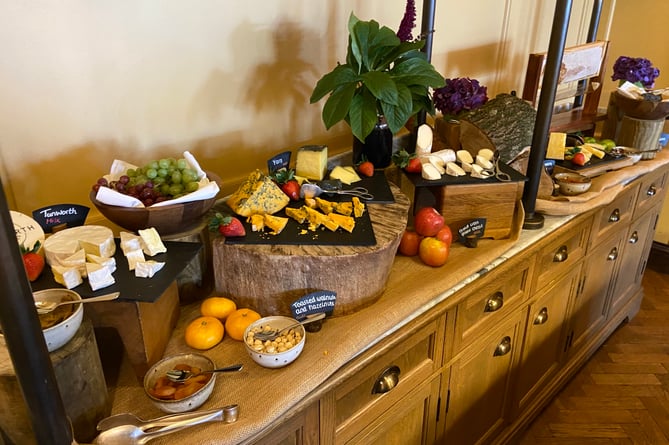 The cheese board at the Wild Carrot's Sunday Farmers' Market Lunch at the Four Seasons Hotel Hampshire
(Daniel Gee)
The dessert table was another star of the show, offering everything from pannacotta to macarons, brownies and dainty patisserie – as was the selection of British cheeses. We both plucked for the latter, nibbling Tunworth, made just a few miles down the road in Herriard, and chunks of honeycomb harvested that morning from the hotel's own hives.
So, is it worth it? At £85 per person, it is undoubtedly an expensive treat. But that is exactly what it is – a treat. A chance to dress up and turn your Sunday lunch into something really quite special, indulging in unlimited fine food, the best Hampshire has to offer, while sipping Champagne and cocktails, all the while basking in the elegance of a historic estate.