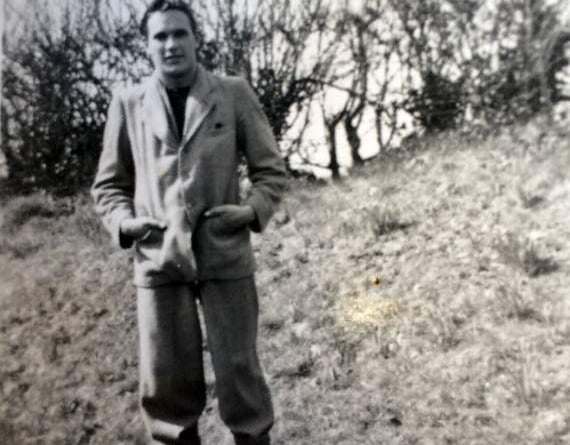 Rod at around the time he was working at the firms
Subscribe newsletter
Subscribe to our email and get updates right in your inbox.
A WIDOW is calling on her late husband's former colleagues to come forward with information about working conditions at two Farnham firms in the 1960s.
Roderick Eade from Tilford passed away aged 83 from mesothelioma, an industrial disease caused by exposure to asbestos.
His wife Julie believes he may have come in to contact with the hazardous material during his employment at Dolton Bournes & Dolton Limited and SA Giles.
Known as 'Rod', Julie's husband worked for a short period of time with builders firm Dolton Bournes & Dolton Limited during 1961 and 1962 and at SA Giles as a machine operator between 1962 and 1967.
Julie Eade said: "We know that Rod worked for these two local firms as he mentioned them when he applied for benefits under the Pneumoconiosis Workers Compensation Act. 
further information about them as he worked in Farnham before I knew him, and it just didn't come up in conversation.
"I'm hoping that Rod's former colleagues can help. We'd be really grateful if they could contact us if they have information that would mean we can better understand what happened." 
Rod attended Ottershaw Boys boarding school until he left in 1952 and had several jobs throughout his working life, including serving as a signalman in the Royal Navy for 10 years and as a prison officer at HMP Wandsworth for over 20 years until 1995.
Despite being fit and active, he suffered from shortness of breath for several months before tests at Frimley Park hospital showed that he had mesothelioma in October 2015.
After his diagnosis, Roderick received chemotherapy but his health deteriorated and he passed away on July 23, 2017. Now his wife and three children want to know what happened.
Julie added: "Rod complained of slight breathlessness when he exerted himself, but we just put it down to his age catching up with him.
"One morning he sat up in bed and was literally gasping for breath and could barely speak. I tried to calm him down and we made an emergency appointment with our GP.
"The GP sent him for a chest X-ray and we were told that Rod had fluid on his lungs which they found mesothelioma cells in.
"It was an absolutely awful time for Rod and the whole family. We miss him so much and we want some answers as to how this was allowed to happen."
Julie is being represented by solicitor Joanne Candlish from Your Legal Friend, a specialist in mesothelioma and asbestos-related lung cancer claims.
Joanne said: "This is yet another example of how employers can fail to take their responsibilities towards employee welfare seriously.
"The dangers of asbestos have been known for decades and much more should have been done to protect individuals from exposure.
"It's a scandal that thousands of hard working people across the UK such as Rod die needlessly each year. Those in positions of responsibility know the risks asbestos carries and should do everything they can to ensure nobody needlessly suffers.
"We'd really appreciate it if Rod's former colleagues from his days in Farnham would contact us with any relevant information. They may help secure some form of justice for Roderick, Julie and their family by helping with this case."
Anyone with information can call Joanne on 0800 170 1006.
Comments
To leave a comment you need to create an account. |
All comments 0