A WOMAN has spoken of her horror at finding a swan shot through the neck with a crossbow bolt at Waverley Abbey.
Lesley Reeves, who works in the accounts department at the Waverley Abbey Trust, helps feed the pair of swans.
"A lady who lives nearby and I like to keep an eye on the pair of swans, which have been here for a number of years," said Lesley.
"I fed them last Tuesday lunchtime and they were fine – but the following day when I went to feed them, it was like a cartoon, with an arrow sticking out both sides of her neck.
"Who knows who did it? Was it just kids or poachers? We have no clue but we need to flush them out and put a stop to it.
"It was a short crossbow bolt in the swan's neck but we also found a lot of arrows lying around on the path – we picked up about eight of them.
"While we were trying to rescue the swan, a passer-by said that in the previous week they had seen a teenager shooting a bow and arrow in Bourne Woods, and said they thought at the time it looked very dangerous.
"It was only when the swan sanctuary experts got the swan out we could see the crossbow bolt. It's horrible.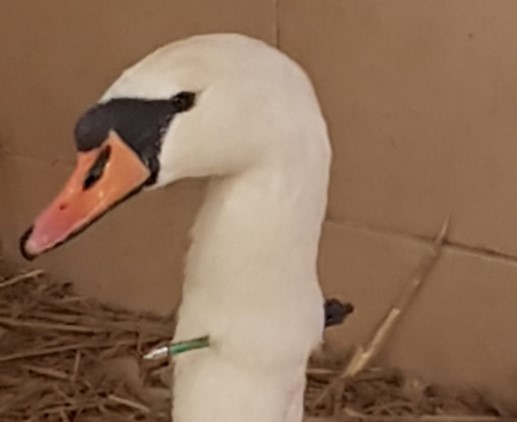 The swan with a crossbow bolt through its neck
(Shepperton Swan and Wildfowl Sanctuary)
"The swan sanctuary did a wonderful job. They tried to capture the swan on Tuesday afternoon but couldn't catch her in an open dinghy, so they came back with reinforcements the following morning, with a vet ambulance and a motorised dinghy. They managed to get her and take her to hospital for the vet to remove the bolt.
"We have to stop these people from doing this again. It was a miracle it didn't go through the swan's windpipe.
"She was trying to feed but couldn't bend her neck. If we hadn't seen her, she would have died, either by starving to death or getting an infection.
"The police are investigating and I hope they find those responsible."
Volunteer rescuer Danni Rogers said: "If people see anyone walking around with a bow and arrow, I hope they call the police.
"We are lucky that in this instance it will have a happy ending. The bolt was taken out and she is doing really well.
"She was up and about the next day, shouting the house down and wanting to go home. Swans are remarkable animals and they recover really well.
"But if we hadn't caught her, she would have died. She was very fortunate the bolt went through the side of her neck and not from the front, or we would have been pulling out a body."