Rowledge impress – and not just with their cricket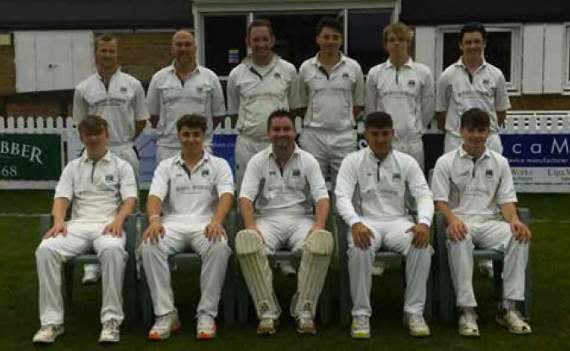 The Rowledge 1st XI
Subscribe newsletter
Subscribe to our email and get updates right in your inbox.
Rowledge were beaten by promotion contenders Basingstoke – but the game will be remembered more for the shenanigans on the pitch than the skills on display.
Rowledge had got the match off to a perfect start when Will Ryman bowled a big in swinger to dismiss Matt Deadman for eight.
Soon after Ethan Martin clean bowled Ash Neal to leave Basingstoke teetering at 20 for two.
Dan Belcher was joined by George Metzger – now back at Basingstoke following his period with Hampshire Seconds – and looked to be positive. Belcher, having timed a couple of drives sweetly, was dismissed to a big spinning off break by Lloyd for 21 and then the long innings for poor Joe Oates was concluded by Ollie Baker for three, bowled missing a straight one.
Metzger was looking good, quick on his feet, and being positive against spin twins, Baker and Lloyd, and he found a partner in Brad Neal for a short period of time as they looked to wrestle back control of the intriguing contest.
Ricky Yates settled into a superb spell, bowling wicket to wicket, with a clear plan, he got due reward, dismissing Metzger for 37 playing an audacious sweep off middle stump.
When the returning Ethan Martin clean bowled Neal for 22, Basingstoke were struggling at 118 for six.
They still had dangerous batters in the locker, who are not shy of hitting a long ball, with Dean Nurse and the Donaldson brothers looking to hit long and straight.
While there were some lusty blows as the innings got towards its end, David Lloyd and Will Ryman saw a chance to take wickets and bowl them out – and they duly did, taking three wickets apiece and bowling Basingstoke out for 173.
Arguably the best bowler in the league at the moment, Brad Neal put Rowledge in trouble straight away as he dismissed Sam Plater caught behind, and then had Jake Wish out lbw.
Baker then followed suit lbw to Tyler Bradley and Rowledge were on the back foot at 11 for three.
Yates looked to dig in, while pouncing on any sort of width, and he found a good ally in Zac Le Roux.
Le Roux looked in fine touch, particularly against the spin of Shahane and Neal as he hit over the top whenever he had a chance.
In the meantime, the volume of the fielding side continued to increase – as did the hostility and atmosphere.
Yates was dismissed by Shahane to an outstanding catch at midwicket by Deadman
for 36, having put on a fine 60 with Le Roux.
There was a long delay after a sour incident that is part of the investigation by league officials, and from there the Rowledge reply never gathered momentum.
Olly Ryman and Littlewood soon departed in difficult circumstances, with cricket not becoming the talking point.
Le Roux battled hard until he fell caught and bowled for 44, to a ball that stuck in the drying wicket, and Lloyd was judged caught behind for 20.
Rowledge looked to get bonus points as the returning Brad Neal settled into his groove once again, and while being helped by five penalty runs for yet more poor behaviour, Rowledge eventually subsided in the final over to 156.
Skipper Ben Wish said: "It was a disappointing loss but there were huge positives once again – bowling a side out, a superb fielding display and the form of Le Roux and Yates with the bat.
"They have competed once again with the form side in the division and given the circumstances the performance was a good effort. But I am incredibly proud of my team, and the way they conducted themselves."
Basingstoke 173-10 ( Metzger 37, B Neal 28, D Nurse 22, G Donaldson 22, Belcher 21, M Donaldson 21*; W Ryman 3-32, Lloyd 3-34, Martin 2-33, Baker 1-37, Yates 1-19
Rowledge 156-10: Le Roux 44, Yates 36, Lloyd 20, W Ryman 15, B Neal 3-30, G Donaldson 3-17, T Bradley 1-17, A Neal 1-31, Shahane 1-37