New Farnham Town manager Sean Birchnall says he couldn't turn job down
Saturday 18th June 2022 4:00 pm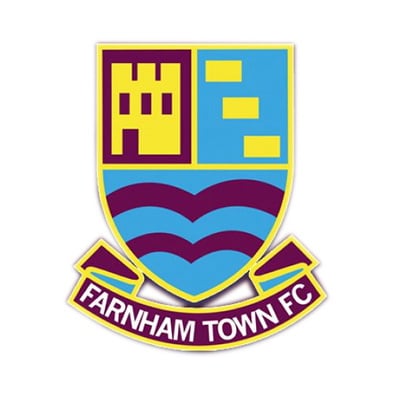 Sean Birchnall, centre, with the new faces in the Farnham Town dugout
Subscribe newsletter
Subscribe to our email and get updates right in your inbox.
Sean Birchnall isn't so much starting a new job as manager of Farnham Town – he's returning 'home' to complete some unfinished business.
No-one could have blamed the former Army football chief if he had decided to remain at Winchester City.
As number two to manager Craig Davis, he had helped mastermind promotion to the Southern League Premier Division.
But Birchnall has history in this neck of the woods – he was a player and coach under Paul Tanner, who is now the Town chairman, and also spent time as a coach at Badshot Lea.
So when the opportunity arose to be in charge of playing affairs at The Memorial Ground, he didn't spend too long thinking about it.
"I spent a long time at Farnham before, playing under Paul and was then a coach and an assistant manager under him," said Birchnall.
"It's nice to be back. I have learned a heck of a lot since those days, going to Badshot Lea where we got promoted from the Combined Counties One to the Premier, and then to Camberley and Winchester for the past three and a half years.
"From each experience you learn a lot, and coaching from a league above where we are now will stand me in good stead.
"Farnham are ambitious. I watched from afar last season and it looked as if the off-field activities had overtaken the on-field activities by some substantial way, and it's important we make our offer attractive for people to want to come down and watch."
At this level, some managers move to a new club, and bring the nucleus of their old team with them.
Birchnall doesn't expect that to happen.
"I know some players tend to follow managers when they move on, but unfortunately for me last season Winchester got promoted to Step 3.
"The squad want to test themselves at that level. I wanted to be tested at Step 3 as well – but when I sat down with Paul, Farnham was very attractive.
"When I was here before, we'd get 15 people into the ground and you couldn't get anyone to sign for the club because the pitch was awful. Those days have massively changed.
"I came down to watch a game last season and as soon as you walk into the ground there's a completely different atmosphere.
"When you listen to what the club have planned behind the scenes, it was something I couldn't turn down. As much as I wanted to be tested at Step 3, there was something about this job.
"It's something I can get my teeth into.
"And I was assistant manager at Winchester and I wanted to have a go on my own. I wanted to be that person in charge."
He is now busy with his new backroom team putting together a squad capable of challenging for promotion next season.
The club have not hidden their ambition – they want to move out of the Combined Counties Premier Division as soon as they can.
"I'm never off the phone," Birchnall said.
"And I'm lucky to have a good backroom staff and we are sharing the job of speaking to all the players.
"We have looked at what we have here already and of course Dan Goodall was at the club last season and knows the under-18s and the under-23s, and he finished the season with the first team.
"I know some of the players already – I coached them many years ago – and we have looked at the youth squads and what we have left at the club.
"Like the club, we want to be challenging at the right end of the table and we have to make sure we get the right squad in to do that.
"We are now actively targeting the right players to do that."
Farnham have had success at under-18 and under-23 level and those players will get the chance to impress Birchnall and his managerial team.
"I'm not one for cliches but if the kids are good enough, they will play. I'm not concerned about age if they can do a job," he said.
"But it is true that some young lads who look good in youth and under-18 football find the men's league quite tough, especially a competition as robust as the Combined Counties. Games every Tuesday, Saturday, Tuesday can take quite a toll on them.
"It's something we will have to manage but if they can perform, and we can also bring in some experience, that'll really help."
Birchnall would like to add some experience to the squad – and preferably with players who have played at a relatively high level.
He said: "At Winchester last year we had players who had played at Step 3 and Step 2 and their experience was invaluable at the end of the season when we were trying to get promoted to Step 3.
"We have to prepare Farnham as a Step 4 club. We have to have that mentality. At Winchester we had the same approach – we did everything professionally off the pitch and when we trained, and when we played matches, we did it as if we were a Step 3 club.
"It's the only way you can do it. We can't go through the motions and think if we finish ninth that's progress from last year – that's not what I'm about.
"The commitment that will be expected from the management staff and the players will mean it will be a waste of time and effort just going through the motions. You have got to have a go at it – and fitness is one of the first things that will come into it. The boys have got to be able to work hard."
Birchnall will be supported by Dan Goodall, who managed the under-18s to their league title last season, and Dean Greenwood, who brings recent experience of coaching in Step 4 from his time as assistant manager at Ashford Town.
And the management team will be further strengthened by Richard Ossai as goalkeeping coach and former striker Matt Bunyan.
"What I have learned in my time in the game is the backroom staff are just as important as the playing staff," said Birchnall. "If we don't get it right off the pitch, we'll never get it right on the pitch.
"With Dean coming in and Dan staying involved, and Matt and Ossie staying at the club, the link between the players and the staff – and the experience we have between us – will be invaluable and we will be able to get the best out of the players."
And Birchnall is looking forward to renewing his rivalry with Badshot Lea.
"Having been an assistant manager at Badshot Lea and Farnham, I know all about the rivalry," he said.
"When I was at Badshot Lea we were ground sharing at Camberley, we didn't have a home or anything else – and to see what they have done with their ground at Wrecclesham, it's superb.
"I didn't leave there in a bad way – we were asked to go in and do a job, and we did it and moved on."
And he wants his team to have the same success as the Baggies last term, when they were involved in the promotion battle up until the final few days of the season.
"If we get the right squad in and they work hard, their ability will shine and we will be extremely competitive in this league," said Birchnall.
"I'm not going to say we are going to win the league, but we will be competitive.
"We are speaking to a lot of players. It's about giving them our offer, telling them how the club are developing off the pitch and saying what we can give them as three very good coaches. If we can get that right, we'll be okay.
"We have some very good contacts with players from this area and Dean was at Ashford last year so he has contacts too. It's having a relationship with these people and hoping they want to buy into it too.
"Dean came down from Step 4 last season to come here because he sees the benefits. If players realise he and I have both done that,we hope they'll want to do the same."
Comments
To leave a comment you need to create an account. |
All comments 0