Alton RFC at the heart of the local community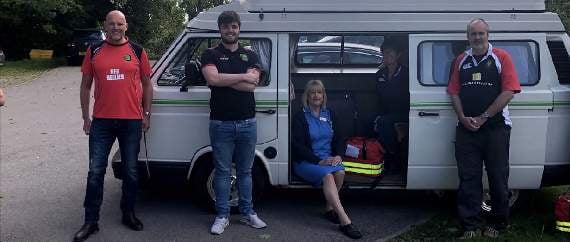 Club volunteers Ezra Mosley, Dan Napier, Lisa Davey, Jane Brown (in the Love Bus) and Chris Maughan
Subscribe newsletter
Subscribe to our email and get updates right in your inbox.
ALTON RFC pride themselves on being a community club.
Whether members have lived all their lives in Alton, or moved there recently, it is 'one club' with deep and strong roots across the local area.
When the coronavirus emergency created a need for assistance at Chawton Park Surgery, Alton RFC stepped up – and continues to play their part in helping the NHS and the local community in these difficult times.
Tom Gaynor, the club's chairman, spoke to his GP, Dr Jules Barber, in early March and asked if there was anything the club might do to help.
An hour later, Chawton Park Surgery served up some challenges!
"First, they needed some drivers as they are now the lead practice to cover all home visits in the area for the foreseeable future," said Tom.
"In conversation, it came out they were short of sterile gloves and masks as normal stocks would simply not be enough PPE for a high number of house calls, per day, over many weeks.
"The final need was for hand sanitiser – but having exhausted every avenue to find, any the doctors reckoned we'd need a magician to solve that one!"
However, the club already had in place great communication channels to reach a wide local audience – and rapidly.
Just 24 hours later, they had identified 30 volunteer drivers to support a roster of up to eight drivers a day, seven days per week – with reserves to boot – for as long as was needed.
Club members stepped up incredibly with volunteers from every area – from players, social members and coaches to parents and sponsors, men and women – as well as from the wider community. The volunteers are now out with the doctors every day – and the plans are working! 
Then local businesses and organisations with links to the club – car paint shops, mechanics, engineering firms, closed schools and colleges – came forward to willingly donate all their spare masks and gloves.
And the club even found that magician!
Tom said: "One of our club sponsors is Gorilla Spirits, whose entire production effort is now focused on making hand sanitiser rather than their usual gin, vodka and rum.
"Dr Emma Bowen-Simpkins spoke to Andy Daniels at Gorilla Spirits and he is now ensuring all local practices are prioritised for the stocks they need."
Meanwhile, another of the club's partners, Akuma, has turned its hand from rugby shirts to producing medical scrubs.
Rupert Vitoria, the club's junior chair, said: "It is truly heartening to see people pulling together and in directions they never saw themselves going.
"However, that is how the rugby community is and it proves the core values of the game – teamwork, respect, enjoyment, discipline and sportsmanship – are transferable to all situations."
By supporting the NHS in this way, Alton RFC have been able to play a role at the heart of the Alton community.
Tom added: "I could not be prouder of how the club has responded to the call for assistance. The emergency continues and so will the club's support."
* Alton RFC have long been at the heart of the community.
Whenever the clubhouse is open, anyone in the community who wants to go in to enjoy a drink and a chat, or watch televised matches, can expect a very warm welcome.
Rugby is famously sociable, welcoming and inclusive.
It is a game for men, women, girls and boys of all shapes, sizes, abilities, sexuality, beliefs and cultures. And rugby clubs are also a lot of fun!
Take a look at the club website (www.altonrfc.club) and find out when you can next be made welcome at the clubhouse or take part in one of the many sessions (novices of all ages and genders always welcome!)
Or if you are part of a local community or sports group or a local charity, without their own facilities, get in touch and see if the club can support you via one of its low-cost hires.
Everything required to run Alton RFC is carried out by an army of volunteers – there are more than 100 of them doing anything from coaching to managing club finances, arranging social events or running the clubhouse or bar.
The club always welcome more help. If you'd like to get involved post-lockdown in some rewarding volunteering activities, get in touch via the club's website.
Comments
To leave a comment you need to create an account. |
All comments 0