So...  we've all seen the images and read the stories of sewage in the rivers, and the poor performance of water companies, the Environment Agency, government and 'them'.
And, indeed, it is true. Water quality in rivers – and our river the Wey – is not great, but rather than pointing fingers, the River Wey Trust and other groups are taking positive action.
Regularly monitoring the chemistry of the river and sampling the ecology, we can understand where there are problems and use this information to pinpoint where solutions need to be applied.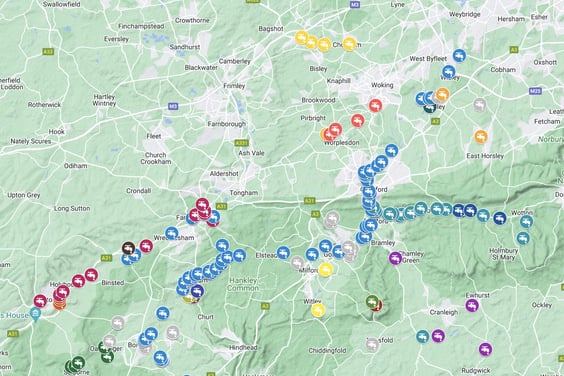 A map of sample points on the website at riverweytrust.org.uk/waterquality
(Google Maps)
After a relatively low-key involvement in water testing with a bi-annual programme supporting the FreshWater Watch campaigns, the heightened interest in 'outside' after the pandemic and the hugely increased public awareness of water quality, has helped the trust introduce regular monthly testing since early last year.
With the leadership and assistance of water rangers and support from local groups like What Next and Transition Haslemere, with positive contributions from councils including Haslemere, we now have a significant amount of information and a far better understanding of the waters.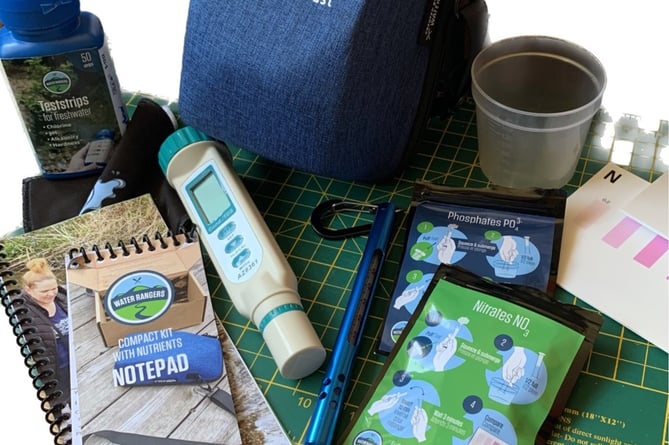 The water quality testing kit from WaterRangers
(WaterRangers)
By establishing 'hubs' to coordinate the testing in an area we have been able to find volunteers to test along virtually the whole length of the river to give a full catchment view alongside the work from Wey Landscape Partnership and the Wildlife Trusts.
As we find (or are found by!) interest groups and volunteers, we're helping them use the water rangers' protocols.  
Sharing the information is vital – we're now able to report the water chemistry at test points above and below sewage outflows by using our test information and live outflow monitoring. Shown on a map, the information is updated and available to demonstrate impact and highlight when there is an issue.
Trustee of the River Wey Trust
Haslemere Climate and Biodiversity Partnership