The economic case for more walking and cycling in Haslemere is strong – and yet we consistently overestimate the benefit of car-parking spaces.  
A parking space outside a typical shop is large enough for precisely one car or one customer, who might not go to that shop.  
Alternatively, there is space for ten bikes and ten customers or wider pavements for oodles of pedestrians. 
They are only used, of course, if more people walk and cycle to town.
Often people argue for free parking to encourage us to bungee in and out of town for a pint of milk or a packet of monster munch. Why? Are small, quick purchases good for the town? Categorically, no. 
Every vehicle which enters ever so slightly reduces the value of the community centre. Busy roads are an unattractive barrier to customers, particularly the elderly and infirm.
Free parking is lost revenue for the council which must be found elsewhere. There is also opportunity cost – the space could be used for retail, hospitality, housing. 
There are approximately 500 public car parking spaces around the High Street in Haslemere. 
If the population grows by  ten per cent (it will) then arguably we need 50 more spaces or another Tanner's Lane car park.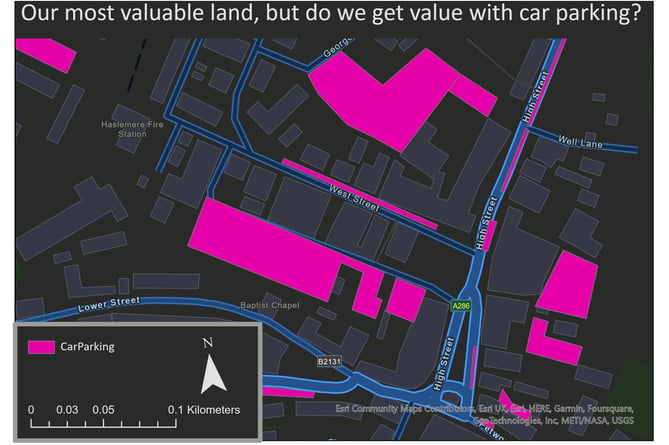 Just think what we could do with all the land taken up by car parks...
(Haslemere Active Travel)
Where? As the above map shows, the only side of West Street without parking is floating above it!  
Do we give up attracting more customers? Of course not. The town should be throwing everything it can think of to encourage the space-efficient active travellers.  
Active travellers linger, get distracted and spend more money. Active travellers will boost our local economy.
We must not forget the many cycle tourists who make Haslemere a pitstop. They need secure places to lean their bikes close to the cafés. Let's make our town a lucrative cycle tourism hub.
How do we encourage walking and cycling? Our research tells us the solutions are more and wider pavements, sign-only wide-area 20mph speed limits, priority given to pedestrians, adult cycle training, cheaper e-bikes, better lighting at night.  
Haslemere Active Travel is supporting World Car-Free Day on Friday, September 22.  Why not join?  
To earn while travelling actively install the betterpoints app. Spend in town at registered retailers.
Haslemere Climate and Biodiversity Collective