I thought it was about time for an update on Brightwells...
Crest's failure to communicate prompted me to revisit Waverley's planning website to see whether planning permission had been granted for the shopfronts and signage proposed. Also, I decided to research and contact the companies that have approved applications.
Responses to my approaches are still coming through – some of the companies record the fact they are engaged with Brightwells, others don't. The results of my research on the various companies' websites, and their responses so far, follow.
Joules have planning permission for a new shopfront and signage at the Brightwells development. Joules' Lion & Lamb Yard branch has, it seems, quietly closed its doors. Joules was bought out of administration by Next and Joules founder Tom Joules. 
It has been reported Joules (the business) still owes in excess of £100 million but the purchase saved 1,450 jobs, although not the one in Farnham. They hadn't come back to me about their intentions when I prepared this report.
As reported in the Herald, and included in a recent article, Reel Cinemas Limited have applied for a licence to serve alcohol until 2.30am seven days a week. The Licensing Sub-Committee are meeting today (Thursday) at 10am at the Burys to determine the application. The agenda fails to indicate an officer's recommendation. 
Three Waverley councillors, none of whom live in Farnham, are going to be determining the application.
It is also truly concerning that the officers have the location of the building wrongly identified. What hope do we have?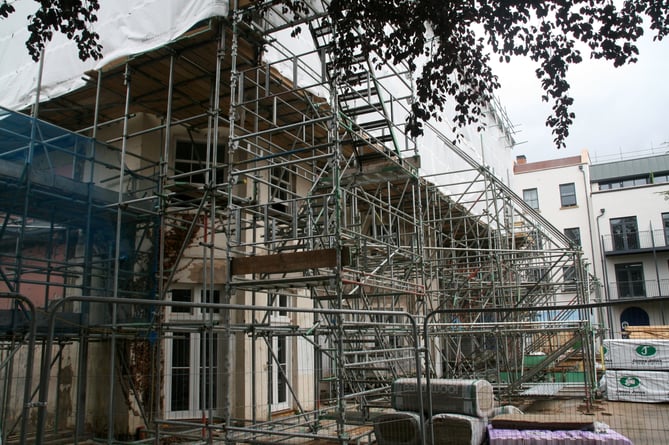 Brightwell House as pictured on July 3, 2023
(David Howell)
One of the few businesses confirmed as going into Brightwells is Coppa Club. Would you believe it, looking back to May 2016 (was it really that long ago?) we had confirmed restaurant chains Carluccio's, Byron Burgers, Ask Italian and Wagamama.
Crest announced on December 12 last year: "After much anticipation, Crest Nicholson is delighted to confirm that stylish eatery Coppa Club is the latest addition to Brightwells Yard." 
The Herald reported that in February 2023 a Crest spokesman said they hope to hand over Brightwell House in mid-March for Coppa Club's fit out – with Coppa Club believed to be targeting a June or July opening." 
March 2023 has gone and last time I looked it is going to be several weeks before the envelope of the extended Brightwell House is watertight, ready for fitting out. 
Crest's statement in April seems somewhat inaccurate now.
"Crest Nicholson is proud to have been trusted with restoring Brightwell House in a sensitive and timely manner," it wrote, having originally suggested the retail centre and town square would open in spring 2021, over two years ago.
There were no dates on Coppa Club's website when I looked last week. Would you risk proposing a definite date? I certainly wouldn't. 
Going on Crest's own timescales, if Crest hand over Brightwell House late July, Coppa Club could open by the end of October (2023).
Potentially, Heaven's Kitchen could be taking space in Brightwells. They have planning permission for a shopfront and signage. There has been no response to the feelers I have put out. The owners of Heaven's Kitchen have recently leased the former Bloom restaurant in The Borough. Can the owners support and adequately manage three hospitality premises in Farnham at the same time?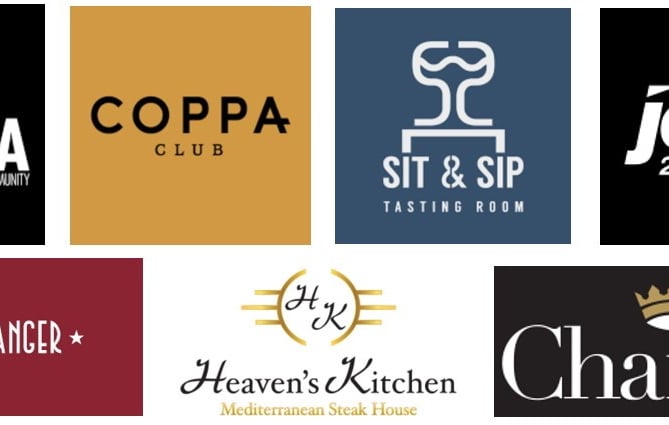 Are these businesses coming to Brightwells Yard?
(David Howell)
Franco Manca Sourdough Pizza are another company that have planning permission for a shopfront and signage, together with a canvas roller awning (both granted August 2022). 
A response from Jasper Page, a member of the Franco Manca property team, late last week stated: "We are not currently in negotiations for a restaurant in Farnham". This was a bit of a shock to me to say the least.
The owner of Franco Manca and Real Greek restaurant chains has agreed to sell the business to the Japanese operator of Wok to Walk and Marugame Udon for £93.4 million at the beginning of April 2023. It has been reported the group are planning six new restaurants this year as business had recovered after the pandemic lockdowns, but added: "The outlook for costs, be they utilities, raw ingredients or labour, continue to present challenges for all operators within the sector and we are not immune. As with other operators, finding staff remains challenging."
Another business with planning permission for a shopfront and signage (August 2022). Pret's press office in London have replied to my email asking whether they can give me any details on their plans for fitting out and opening the branch, saying: "Pret won't be commenting on this occasion."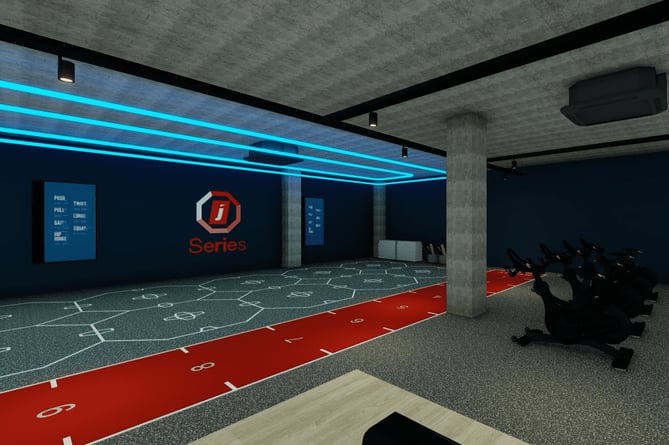 One business with a website that actually announces its intention to come to Brightwells is Jetts 24/7 Fitness, although they state they are intending to open late-2022 to coincide with the opening of the development. Jett's already have a gym at The Meads Shopping Centre in Farnborough. The question has to be asked, do we need another gym in Farnham?
Coppa Club have applied for and received their premise licence. Sit & Sip haven't applied yet nor mentioned their intent to open in Farnham on their website nor on Facebook. 
The elephant in the room is M&S Food. They would have been the absolutely perfect anchor store for the development. I am not a fan of the development, as you may have picked up, but if the development is to succeed, we need a respectable anchor. 
Farnham and M&S would have been the perfect marriage. And if it doesn't succeed, we have a problem. A serious problem, I think. I have said before, if Crest had completed the development on programme, M&S wouldn't have withdrawn from the development.
I have discovered Charters, formerly at 39A/40 Downing Street, have moved into Cheyenne House in West Street. A temporary home, I am sure, as I understand they are moving into Brightwells at some point.