Choir's French night is simply magnifique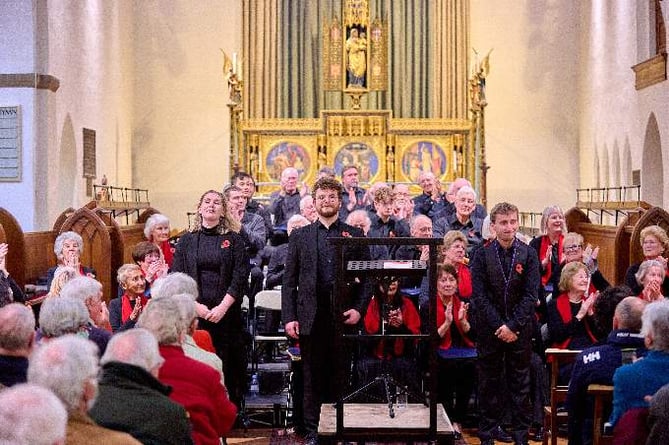 Ellie Hargreaves, Chris Murphy and Ben de Souza, right, take a bow
Subscribe newsletter
Subscribe to our email and get updates right in your inbox.
Farnham and Bourne Choral Society's November concert was their first in nearly two years, and what a joy it was to hear live music again.
With new conductor Ben de Souza, their all-French programme opened with Cantique de Jean Racine by Gabriel Fauré. The choir produced a well blended and balanced tone, with a good range of dynamics and warm atmospheric singing in the tenors and basses. They coped well with the French words, not the easiest language to sing in.
Louis Vierne's Messe Solennelle of 1899 was challenging and began with an impressive organ introduction, played competently by Robert Patterson.
The work sets the standard movements of the mass, but without the creed. Particularly outstanding was the haunting motif on the organ accompanying the Sanctus.
The conductor chose convincing speeds for the movements and the choir coped admirably with the work's crisp rhythms, strong climaxes and interesting harmonies. The sopranos made a good attempt at some very difficult pitching and key changes. The mass ended serenely in C sharp major with the words Dona Nobis Pacem.
The choir came into its own in the Fauré Requiem, a fitting end to a concert sponsored by the Owen family in memory of Andy Owen, one of the choir's tenors, who died recently.
They captured the atmosphere of the Requiem and sang with a well blended tone and sustained phrasing, the tenors producing a lovely warm sound in the Agnus Dei. Baritone soloist Chris Murphy projected very well with excellent diction. The soprano soloist, Ellie Hargreaves, gave a heartfelt rendition of the Pie Jesu, with a beautifully controlled tone. In the final movement, In Paradisum, the sopranos sang angelically. A most enjoyable performance.