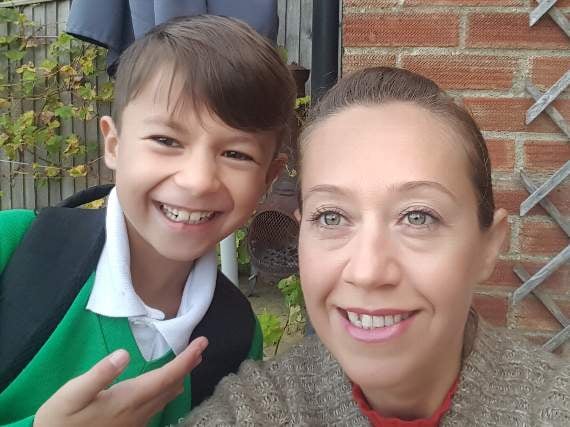 All's well that ends well - Gulfer Budden and Aiden
Subscribe newsletter
Subscribe to our email and get updates right in your inbox.
A FAMILY holiday took a dramatic turn for Farnham mum-of-three Gulfer Budden, when her seven-year-old son Aiden choked on an ice lolly and nearly died.
Gulfer, who saved her son using skills learnt on a free first-aid course run by Heartstart Farnham Lions, is now sharing her story to encourage more people to learn first aid.
It also coincides with her son's school, St Peter's C of E Primary in Wrecclesham, signing up to St John Ambulance's Big First Aid Lesson on November 3, which aims to teach life-saving skills to the younger generation.
The incident happened in mid-August when Gulfer, 37, was visiting her family in a remote part of Turkey, with her three children.
She was at her mum and dad's house, and with temperatures in the 30s, her son Aiden and twins Ryan and Reece, both five years old, were regularly having ice lollies to keep cool.
But with Gulfer upstairs, unbeknown to her Aiden put the whole lolly in his mouth and sucked a large chunk of ice off its stick, which lodged in his throat.
Gulfer's mum, dad and sister were with Aiden and witnessed what happened - later describing him as trying to cough out the ice, but could see his face starting to look peculiar.
Gulfer's sister tried to help by slapping him on the back, but the ice was stuck and by this point Aiden was gasping for air.
Gulfer said: "I heard my sister calling me urgently, so I went downstairs to find my son flopped on the floor. It had only been a matter of a couple of minutes, but already he was making funny movements; he was twitching and his face was a strange colour.
"I looked in his mouth, just as my sister had done and couldn't see anything. She quickly told me what had happened, and thanks to my first-aid training, I knew I had to do some abdominal thrusts to try and get the blockage out."
Thankfully, the thrusts performed by Gulfer dislodged the piece of ice, but the drama wasn't over yet.
"I lay Aiden on the floor, but he wasn't breathing. I gave him chest compressions, which you perform as part of CPR, and after five compressions he started to breathe. I turned him on to his side and a lot of froth and saliva came out of his mouth."
With Gulfer's family living in a remote part of Turkey, an ambulance was at least 30 minutes away.
But with Aiden now breathing, and starting to come around, Gulfer drove him to the nearest hospital for a check-up, which found no lasting damage and not long after, Aiden was back to normal
"It was a very close call," said Gulfer. "I received St John Ambulance first-aid training a few years ago, and then I took part in refresher training through the Farnham Lions' Heartstart group in December 2015. Without having this training, I wouldn't have known what to do.
"The rest of my family had no idea, so I'm so grateful I was there, and hadn't popped to see some friends that afternoon. There could have been a very tragic outcome, but I had the confidence and skills to take action there and then."
With Aiden returning to school after the summer holidays, Gulfer recounted the story to his school's headteacher. Pupils will now take part in St John Ambulance's Big First Aid lesson, with the aim of introducing first aid to the children from a young age.
St Peter's headteacher Sarah Dunning said: "As a school we truly believe that teaching our children, families and local community CPR is a vital. You just never know when you might need it. 
"Gulfer did an amazing job in a very emotional situation - her training kicked in and she was able to remember everything she was taught. We cannot bear to think about what might have happened to Aiden if Gulfer had not been trained."
Jo Michaelides, St John Ambulance and Farnham Lions Heartstart first-aid trainer, also has her children at the school and delivered the refresher training to Gulfer in December 2015.
She said: "First aid is a simple skill to learn but can have an incredible impact and you're never too young to learn the skills to save a life. Gulfer's story really brings home why it's so important to learn first aid, as you just don't know when you may need it.
"If Gulfer hadn' known what to do, there would have been an empty seat at my kid's school this September. What Gulfer learnt in those two hours at Heartstart was quite literally the difference for Aidan between life and death.
"It was also the difference for our school community between him starting back happily this September and the headteacher having to explain why a child had died over the summer. It's that important and that powerful.
"Everyone should know what to do and be able to save a life, like Gulfer."
Jo added Heartstart has had "loads of bookings" from St Peter's parents since hearing Gulfer's story, but places are still available for the group's landmark 100th class on November 15, at the St John Ambulance Hall in The Hart.
lions.co.uk, email heartstart
uk or call Heartstart Farnham Lions founder Keith Aston on 01252 723319.
Comments
To leave a comment you need to create an account. |
All comments 0