A new big screen adaptation of the hit Broadway musical, Wicked, is being filmed at Hankley Common.
Cynthia Erivo, who plays Elphaba, the main character of the story, was recently seen on set for the first time, with her green-painted skin being reminiscent of the iconic witch.
Filming took place last weekend, with Munchkin Country, the fictional eastern region of the Land of Oz and home to the famous Yellow Brick Road, being the backdrop for the movie.
The film will be a prequel to The Wizard of Oz, detailing the one-time friendship between the Elphaba and Glinda characters.
The two-part series has been kept under wraps, with Jeff Goldblum accidentally revealing that he had been cast in the film while appearing on Jimmy Kimmel Live in the US.
Original Broadway star Kristin Chenoweth, who played the role of Glinda, also revealed that she is "so proud" of pop star Ariana Grande, who has taken on her role in the movie adaptation.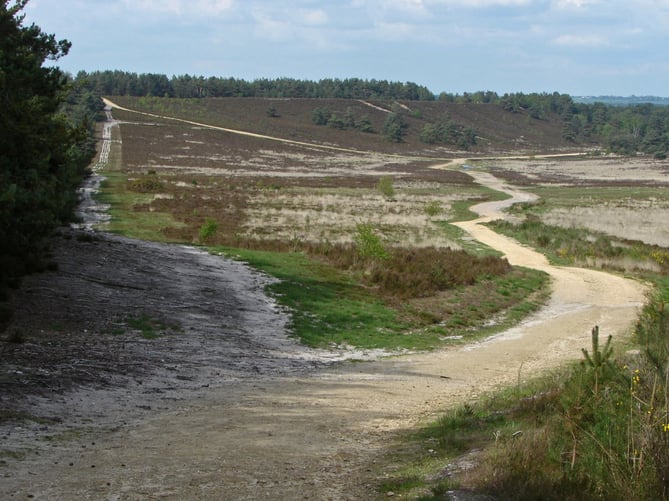 Hankley Common near Elstead is popular with walkers and cyclists – as well as big budget film and TV crews
(Alan Hunt )
Wicked Part 1 has been moved up to a November 27, 2024 release, while the second part is scheduled for December 25, 2025.
Hankley Common, the MOD-owned heathland between Thursley and Elstead, has a rich history as a filming location, having been used in a number of Hollywood blockbusters and popular TV shows.
James Bond films, including The World Is Not Enough, Die Another Day and Skyfall. Other notable films shot at Hankley Common include Macbeth, The King's Man, 1917, and Marvel blockbuster Black Widow.
Additionally, it has been used in TV shows like Doctor Who and Blackadder Back and Forth. Recently, Hankley Common doubled as the Wild West for the BBC true crime drama, Landscapers, and was also used as the location to represent the landscape of Hell in the first season of The Sandman television series.