Former Trump envoy fumes after private jet is delayed by eco-protestors blockading Farnborough Airport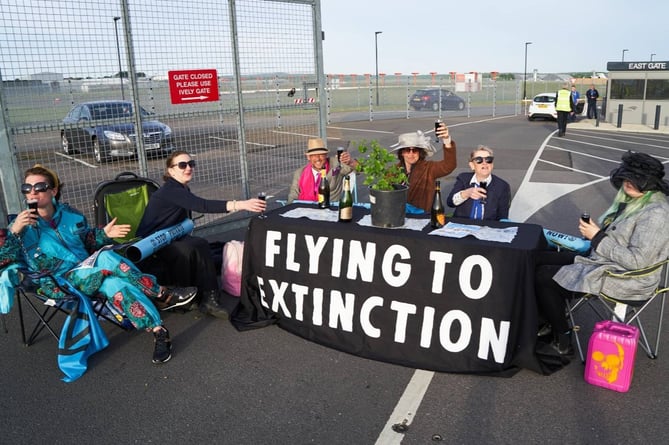 Eco-protestors blockade the entrance to Farnborough Airport
(Extinction Rebellion )
Subscribe newsletter
Subscribe to our email and get updates right in your inbox.
A FORMER US ambassador and Donald Trump envoy, whose private jet flight from Farnborough Airport was delayed on Saturday (May 21) by Extinction Rebellion protestors blockading the airport's entrances, has been roasted on Twitter for complaining about the amount of fossil fuel he used as he was driven around the airport trying to find a way past the demonstrators.
Dr John Peter Pham (@DrJPPham), who describes himself on Twitter as a distinguished fellow of the Atlantic Council, senior advisor to Tech Diplomacy and former US ambassador and special envoy for the Sahel and Great Lakes region of Africa, was heading to Farnborough Airport when he was met with the blockade.
Protestors were obstructing all three main gates to the airport, when Dr Pham arrived, which resulted in numerous flights being grounded.
Some campaigners lay in front of the gates, locked on to cement-filled tubes, whilst another sat astride a 10 foot high tripod.
Others dressed as champagne-swilling private jet-setting politicians, business executives and celebrities, chained themselves to a dinner table in a tableaux dubbed "The Table of Extravagance".
Protesters from across the South East of England and further afield, were also at the iconic Whittle Gate with flags and banners proclaiming Flying To Extinction, Private Flights Cost The Earth and Stop Private Flights Now.
The eco-activists were there to demand that the UK government put a halt to private flights immediately.
Extinction Rebellion says the 30,000 private flights to and from Farnborough Airport each year carry an average of just 2.3 passengers with each passenger being responsible for the emission of nine times as much carbon as an economy flight to the US and 20 times that to Spain.
Despite a key recommendation of the Climate Assembly UK to ban polluting private jets and helicopters, Farnborough Airport has been given permission to increase flight movements to 50,000 a year and has set its goals on unsustainable expansion.
As Dr Pham was driven around the airport trying to find a way in, he posted a video of the blockaded gates on Twitter and tweeted: "Climate protestors opposed to private aviation blocked multiple entrances to the #UK's Farnborough Airport this morning, forcing me and other passengers to burn extra #FossilFuels & emit more #carbon driving around the perimeter looking for a way to get past them onto our flights."
The Twitter community wasted no time in responding. Users were puzzled that Dr Pham was concerned about the amount of fuel burnt driving around the airport but seemingly relaxed about the carbon impact of his private jet flight.
One said: "The point is planes burn LOTS more carbon than cars or trains. If you're going to Europe, why not try the Eurostar? Zoom meetings are also low carbon."
Another wrote: "The fossil fuel you expended driving around Farnborough Airport is NOTHING compared to what your private jet will burn - wake up!"
A third added: "I understand that if you're used to taking private flights and your colleagues do the same, that it feels normal but the choices you are making are killing this beautiful planet. You have a responsibility! One private flight = 9 U.K. citizens average annual emissions."
Another respondent commented: "As if a few hundred grams emitted while driving round the airport mattered, when your private flight emits several tons of CO2."
Dr Pham was appointed to his former post of special envoy for the Sahel and Great Lakes region of Africa by former US President Donald Trump in 2018 prompting one Twitter user to say: "There's going to be a lot of fun had with the logical fallacies embedded in this tweet from one of Trump's golden boys, just looking for a way around the truth. "Keeping Pham grounded is a bonus for the citizens at the gates and hopefully out of African politics for a short time."
Another Twitter user hoped Dr Pham might consider what was behind the protest, saying: "Maybe now you will pause, think and change your ultra- high carbon lifestyle? #ClimateActionNow"
Some expressed frustration at Dr Pham's lack of awareness of the climate crisis. One said: "Well done, Dr.; proving yourself to be a distinguished fellow of total self-absorption and misunderstanding of the fundamentals of personal carbon consumption. Hearts bleed and the planet burns..."
Another appealed to the doctor to think of future generations. The user said: "You are a selfish fool for flying at all. Guess you don't have children?"
One Twitter user questioned Dr Pham's understanding of the urgency of the climate crisis, saying: "You're not exactly a distinguished fellow are you? More a tragic figure, thinking it's in any way excusable to be flying on private jets. Has your sense of self-importance clouded all awareness of the catastrophe of climate change?"
Another marvelled at Dr Pham's apparent inability to see the irony of his complaint, commenting; "Pretty sure that if you had even the remotest concern about climate change or CO2 emissions, you wouldn't be taking a private flight. Your complaint is laughable, more so by the fact that you can't even see it."
Yesterday's protest at Farnborough Airport was staged as world leaders, influential business executives and selected billionaires prepare to fly out by private jet to meet at the World Economic Forum in Davos, Switzerland, where climate action is supposedly at the top of the agenda.
Yet Davos is reknown as the world's largest annual gathering of private jets, highlighting the sheer hypocrisy of the political and business elites attending this annual event.
Farnham resident Mike Grant, 61, a former serviceman, from Rosewell near Edinburgh, said: "Davos brings together the world's largest annual gathering of private jets, a hypocrisy of the worst order from so-called business and societal leaders when climate action is supposedly at the top of their agenda."
According to Extinction Rebellion, flying is the fastest way to burn fossil fuels and yet aviation fuel is exempt from any taxes almost everywhere on the planet, in stark contrast to the price paid for fuel at UK pumps.
Despite a key recommendation of the Climate Assembly UK to ban polluting private jets and helicopters, Farnborough Airport has been given permission to increase flight movements to 50,000 a year and has set its goals on unsustainable expansion.
A £35 million ($47 million) hanger is scheduled to open in 2024 doubling the available temperature controlled hangar space plus a new partnership with UK-based Vertical Aerospace aims to offer a luxury four-passenger eVTOL aircraft service.
"All this, as private jet use overall has seen growth rates of up to 25 per cent whilst ordinary UK citizens are having to choose between heating and eating," said an Extinction Rebellion spokesman.
"One of the key recommendations made to the government by the Climate Assembly UK in its report The Path to Net Zero is to ban polluting private jets and helicopters. They also called for frequent fliers and those that fly further to be made to pay more. The government has shown no sign of acting on either demand. 
"Now, a damning report commissioned by the AEF published on May 16 condemns the UK Government's 'Jet Zero' plans as "techno-optimism" putting emissions targets at risk by reliance on uncertain solutions.  COP26 President Alok Sharma MP acknowledged earlier this week that failure to act on the promises made at the Glasgow COP26 climate summit last year would be 'an act of monstrous self-harm'.
"Aviation has contributed more to global heating than entire continents and the need for climate justice must be recognised. Overall 80 per cent of the world's population have never flown, and it is the uber-rich of the wealthiest countries that cause the most harm as the people of the majority world suffer the most from the climate crisis. The UK Government holds the presidency of COP26 and has the responsibility to show leadership, the Prime Minister must act immediately to stop the harm and start by taking the first step.
"Stop private flights now, they are costing us the Earth."
An airport spokesman said: "Farnborough Airport is aware of a number of unauthorised persons who gathered at the entrance to the airport on Saturday.
"The airport and authorities are continually monitoring the situation.
"Whilst Farnborough Airport's flight profile is very different to other airports, its carbon footprint is over 90 per cent less than a commercial passenger airport with a similar number of flights.
"The airport introduced Sustainable Aviation Fuel to support the decarbonisation of the wider industry and is also carbon neutral for emissions within its control."
Comments
To leave a comment you need to create an account. |
All comments 0