With around 800 items over two days, the Ewbank's entertainment and memorabilia sales will see lots going under the hammer from well-known TV shows, films, music artists and autograph memorabilia. 
The Burnt Common Auction Rooms will be starting the two-day event with a live timed sale on February 23, followed by the premier live auction the next day.
Viewing starts on Tuesday, February 21 from 9am to 5pm until the day of the auctions.
One of the star lots in the auction is Noel Gallagher's handwritten lyrics to the song Live Forever by the Manchester rock band Oasis.  
Live Forever was the third track on the band's debut album Definitely Maybe which was released in 1994. 
This lot originates from a technician of the band, and it is believed Gallagher did it some time in the mid-2000s. The lot also comes with an original proof photograph of the album cover featuring John Lennon's childhood home at 251 Menlove Avenue in Liverpool, signed and stamped by the photographer Michael Spencer Jones. It has been valued at £2,000 to £4,000.
Another highlight among the lots on offer is a Warner Bros presentation golden snitch from the film series Harry Potter. 
Replica golden snitches as seen in the film's quidditch scenes were gifted to Warner Bros executives and VIPs to commemorate the release. Only 50 are thought to have been produced and is expected to sell for £3,000 to £5,000.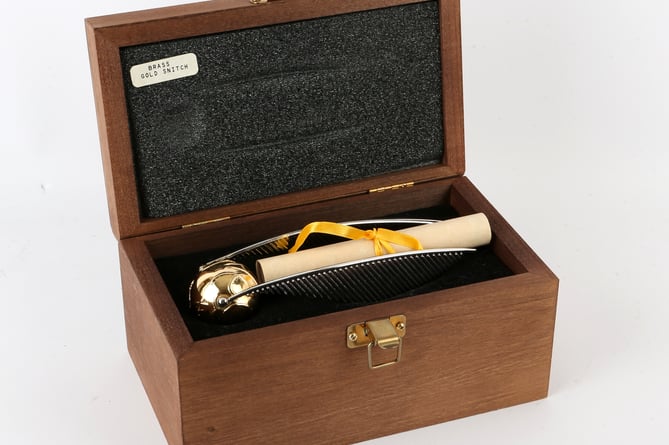 A presentation golden snitch
(Ewbank's Auctions)
Another interesting lot also going under the hammer is The Simpsons pinball machine from 1990 by Data East. It is based on the animated sitcom and features many elements from the series, such as character voices and music. 
The producers took advice from The Simpsons creator Matt Groening while developing the game and it was popular in the United States, becoming a hit for Data East Pinball. It has a guide price of £1,000 to £1,500.
One for the musicians is a Gibson Les Paul electric guitar, made in USA in 2004 and comes with a lined hard case. These iconic guitars are a must for any budding guitarist and are a great edition to any collector. It is estimated to fetch between £800 and £1,200.
One extremely rare lot is a photograph album which includes Charlie Chaplin and stars of the silent screen, and another photograph album compiled by actor Leslie Stuart Junior, containing approximately 500 black-and-white photographs. 
Loosely inserted is a black-and-white photograph of Stuart Junior and Charlie Chaplin inscribed and signed by Chaplin to his friend in black ink To Leslie Stuart from your secret admirer, Charlie Chaplin, and further inscribed by Stuart to his father. 
Many of the photographs within the album were taken by Stuart or depicted him with fellow actors, novelists and screen writers of the day. This lot carries a guide price of £800 to £1,200.
Another rare lot is a handwritten letter from Winston Churchill on House of Commons-stamped notepaper thanking the correspondent for their birthday wishes, accompanied by a further similar typed letter dated November 29, 1949, and signed by his secretary, with a small official 'Prime Minister' envelope date stamped January 17, 1955 with '10 Downing Street', and a later unsigned black-and-white postcard of Churchill.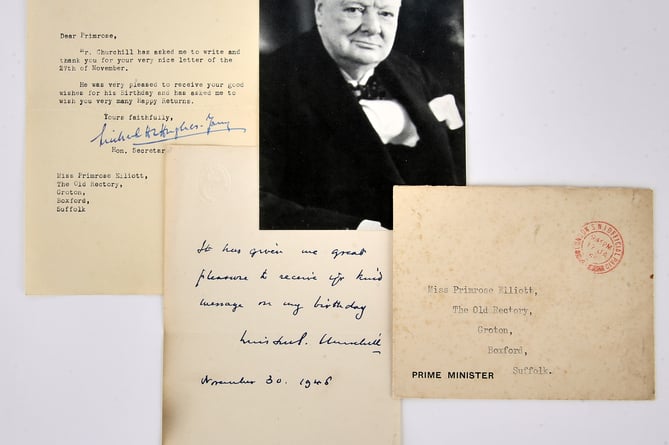 Winston Churchill's handwritten letter
(Ewbank's Auctions)
It has been valued at £300 to £500.
A David Bowie self-portrait postcard by Bowieart, signed on the front in black pen and dated 2002, with hand-signed certificate of authenticity from davidbowieautograph.com is a great edition to any Bowie fan and is set to realise £300 to £500.
Also going under the hammer is a pair of Jimmy Choo shoes worn by Barbara Windsor as Peggy Mitchell in EastEnders.  Both are signed on the bottom with a signed cast photo. This lot has a guide price of £200 to £400.
Ewbank's are still accepting consignments for this auction. Call 01483 223101 or email [email protected]
- Valuations can be obtained between 9am and 5pm Monday to Friday with no need for appointments.
- Live internet bidding is available through ewbankauctions.co.uk