Dr Ed: Does ongoing Frensham issue risk 'civil unrest'?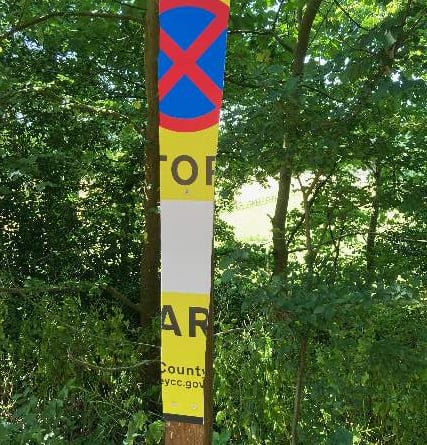 A vandalised sign marking the rural clearway in Bacon Lane
Subscribe newsletter
Subscribe to our email and get updates right in your inbox.
LEICESTER'S re-entry into lockdown this week presents a perfect example of the NHS test and trace system and 'local lockdowns' working as they should, says Dr Ed Wernick, the GP leading Farnham's response to Covid-19.
But it offers a timely reminder too, the Downing Street GP added, of how fragile our new-found privileges could be if social-distancing measures are not stuck to, and should "sharpen the mind" as pubs and many other hospitality-based businesses reopen this weekend.
"I think it's a good direction of travel," said Dr Wernick.
"Different areas have different demands and will have different pressures at different times.
"Clearly in Leicester the rates of infection are going up – they've got ten per cent of the entire UK population's new cases there, which is colossal, and three times the number compared to the next highest district.
"So a local lockdown there is good for the people of Leicester because it will reduce the infections there. But it also means it doesn't stifle the freedoms and economies in areas in a better position."
Local lockdowns do, though, add a political element unseen previously, Dr Wernick added, and carry a risk of "civil unrest" as one area is treated differently to another.
"Will there be the continued buy-in?" he queried. "At the start of lockdown, we had a common goal and vision – everyone was in it together, and we did it for the greater good of everyone.
"But will some people in those areas feel persecuted, and therefore, do we have a risk of civil unrest between the haves and have nots?
"That political aspect is going to be really difficult to control, and the messaging from the government is going to be key."
He added Farnham and surrounding area was "in a great position", and had been "adhering to the social distancing well" – as evidenced by the fact Frimley Park Hospital again enjoyed several days this week without a single diagnosis of Covid-19.
But he fears even Farnham may not be free of this political element, if visitors such as those seen in great numbers at Frensham Great Pond in recent weeks "risk the good work of the of the local people".
Dr Wernick continued: "If local areas are going to be treated individually and you've got an attraction, which brings in a lot of people from outside, then I imagine there's going to be political pressure to limit attendances at those attractions."
Comments
To leave a comment you need to create an account. |
All comments 0