Jeremy Hunt has said it is"disappointing" that plans to drill for oil and gas in the Surrey Weald at Dunsfold have not been "formally shelved" altogether.
The Chancellor of the Exchequer and MP for South West Surrey issued the statement after the High Court ruled the government-approved exploratory drilling in his South West Surrey constituency would go to judicial review.
The High Court ordered the review on the grounds there was "inconsistency in decision making" by secretary of state Michael Gove, and that Dunsfold bordered the Surrey Hills Area of Outstanding Natural Beauty – where great weight should be placed on "conserving and enhancing landscape and scenic beauty".
Mr Hunt, who has campaigned against the planning application in Dunsfold before, said: "Despite the latest judicial review, it is again disappointing that plans for this potential gas exploration have not been formally shelved.
"The idea of drilling on this beautiful area continues to be inappropriate. What's more, UK Oil & Gas' (UKOG) data and mapping of the sub-surface is sparse, old and simply not detailed enough.
"I hope to meet with Protect Dunsfold again later this month to continue discussions."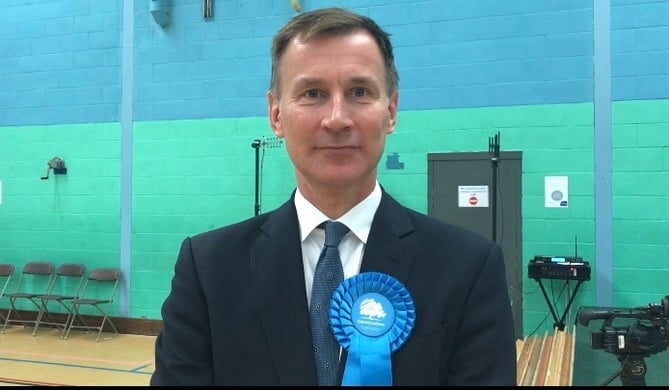 MP Jeremy Hunt is in tune with protesters: Drilling for oil and gas should not be allowed in the Surrey Hills
()
The Conservative MP has form in the matter. In June 2022 he wrote the Department for Levelling Up, Housing and Communities' (DLUHC) decision to overturn Surrey County Council's initial refusal was "bitterly disappointing and wrong both economically and environmentally".
He also wrote a letter to housing secretary Michael Gove that said the project had  been strongly opposed by both county council and "the entire local community", going as far as accusing DLUHC of "ignoring the strength of local opinion".
After news of the judicial review broke, UKOG issued a statement to the London Stock Exchange.
It said: "Mr Justice Lane dismissed five of the opponents' grounds seeking to reverse the secretary of state's grant of planning consent as being unarguable. Two remaining grounds were given leave to be argued at a further hearing at some time in the future."
It added full planning and environmental consents remain in force.
Stephen Sanderson, UKOG's chief executive, said: "The company's legal team remains robustly confident that following the extensive Loxley public inquiry, the secretary of state's decision to grant planning consent was thoroughly considered and entirely lawful.
"Consequently, we will continue to move our project ahead."