It was a roller-coaster weekend for the long-serving councillor for The Bourne, CAROLE COCKBURN BEM. On Friday it was confirmed she had held on to her borough council seat at the local elections. On Saturday she took her seat in Westminster Abbey for the coronation of King Charles and Queen Camilla surrounded by fellow selfless individuals who have made significant contributions to their communities. Then on Sunday, there was a sting in the tail as she was ousted from Farnham Town Council. Here, she reflects on a joyous and historic occasion in the capital...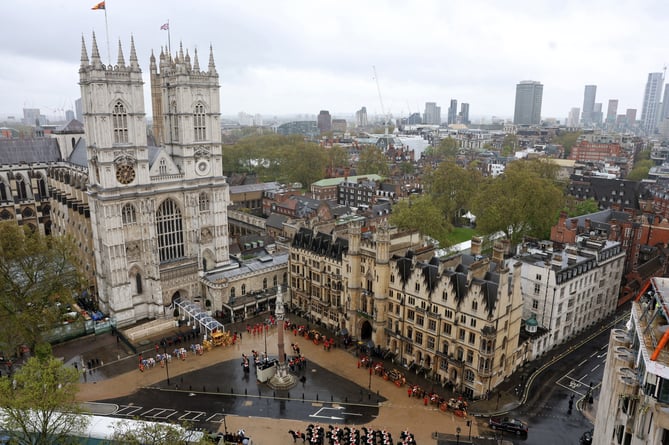 The Gold State Coach, and other Royal coaches wait for members of the Royal family at Westminster Abbey for the Coronation Procession to begin.
(© MOD Crown copyright 2023 )
Thank goodness we had booked into a hotel within walking distance of Lambeth Bridge, as that was where the queue started at around 7am! There are worse places to queue! London was bustling in preparation for the big event.
Hats of all shapes and sizes, and uniforms which were absolutely stunning, were all to be seen as the queue grew longer. The only item in common was a pair of sensible shoes, with any high heels tucked safely in the bag for later!
We started moving towards security in Tower Gardens at around 7.15am and emerged into the sunshine around 7.45am. There was still a tidy walk to Westminster Abbey but it was fine and dry and the chatter was endless.
We were in our seats before 8am and enjoyed some terrific music while we waited for more important guests. The Abbey positively glittered and the robes and regalia that passed close by were impressive beyond words.
We were all there for our service to the community and it was fascinating to hear everybody's story, as we waited for the coronation itself. I was surrounded by a superb group of selfless individuals.
Michael Gove passed by us twice and I was tempted to ask him about the Farnham Neighbourhood Plan but thought it was not the time! A great pity!
Apart from the dignity of the King and Queen, my lasting memories will be of Penny Mordaunt – what a faultless performance, the feeling of warmth towards the traditions surrounding the monarchy and the music. 
The Abbey seemed to shake with the brilliance of all the compositions, whether ancient or modern. It was impossible not to be moved.
We emerged into rain but we really didn't care. We had witnessed a great ceremony, London was ablaze with red, white and blue and it was difficult not to feel uplifted. 
A cold lunch accompanied by a superb bottle of white wine in our hotel room completed the morning with a final toast to King Charles and Queen Camilla. Long may they reign!