Oxfam Books and Music shop in The Borough, Farnham, curated a special window display of authors and illustrators that are connected to Farnham to mark Heritage Open Days.
Book shop manager Alison Pratt, 60, from Farnham, is passionate about raising awareness of Farnham's rich literary heritage.
Once the theme Creativity Unwrapped was announced for this year's Heritage Open Day programme, the bookseller started pulling out older and newer books of local authors from the shop's shelves and large treasure trove of donations.
She chose five authors/illustrators to make a window display – Pauline Baynes, Edgar Mittelholtzer, George Sturt, John Birmingham and John Verney.
Pauline Baynes lived in Dockenfield until her death in 2008 and illustrated more than 200 children's books. They include the Narnia books, Tolkien's Hobbit, the Lord of the Rings trilogy and Watership Down. 
Ms Pratt said: "I've made it my mission since I've been managing here to try to reveal to the public which authors and illustrators are part of our cultural heritage in Farnham.
"I started researching Pauline Byanes. I'm looking at donations as they are coming in and picking things out that I know she contributed too. I have a long list of books she's illustrated. We are curating books and making sense of books in a different way. I love finding artwork on vintage paperbacks and sometimes not even accredited to the artist.
"For each Narnia cover, Pauline was paid a flat fee of £100 and no royalties."
The books have sold more than 120 million copies.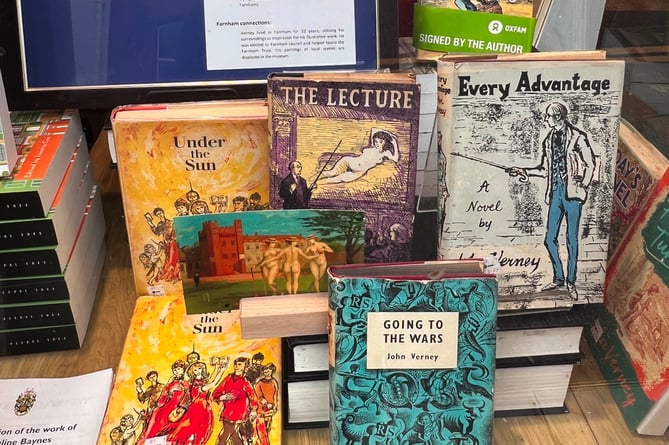 A display of local authors for Heritage Open Days at Oxfam Books in The Borough, Farnham
(Noni Needs)
George Sturt, born in Farnham, was a social historian whose mother ran a bookshop. In his book, A Small Boy in the 60s (1860s) he describes the bookshop in detail and climbing the stairs to look out and see the comings, goings and views of Farnham. 
Ms Pratt considers him to be as important as William Cobbett and is campaigning for a plaque to be put up in his name.
Ms Pratt said: "Edgar Mittelholzer was the first published Caribbean author, in the 1950s migrating from Guiana to England. He produced a novel each year.
"He lived in Farnham for six years, tragically taking his own life and even his grave is in Farnham. Why didn't I know about him? There were reports of his death in the New York Times. I think they have now put up a plaque on the side of Sainsbury's."
John Birmingham, born in Farnham, was an illustrator of picture books, contributing to more than 60 children's books. His books are 'full of foreboding' for children like Mr Gumpty's Outing, which Ms Pratt read to her own children.
John Verney settled in Farnham after the Second World War. His illustrations can be seen in the Museum  of Farnham.
Ms Pratt said: "He was inspired by Farnham, drawing portraits of people, and places in the town. He did a children's magazine which was covered in portraits of people in the streets and buildings of Farnham. He even stood for Farnham council."
Ms Pratt has run the bookshop for eight years and said: "I am lucky to be given free reign to develop the bookshop in ways I am interested in.
"A community bookshop is a bookshop that reflects the community it is part of, and that includes letting people know about its cultural heritage because that's really important.
"We are going through these streets every day and the people we are surrounded with have a history to them – and it's a really interesting history, particularly somewhere like Farnham."
The window display books will go into a local 'interest section' in the bookshop. And as these authors continue to be collated by Oxfam, customers will be directed to authors they might not have connected to Farnham in the past.