Many congratulations were given to the class of 2023 at Amery Hill School in Alton, who achieved some outstanding GCSE results.
A spokesperson said: "Against a backdrop of two years of disrupted secondary education due to the pandemic and then the government's decision to engineer GCSE grades back to 2019 levels, our students have shown that tenacity, courage and hard work can overcome many obstacles when learning within a school environment which is supportive, caring and highly aspirational.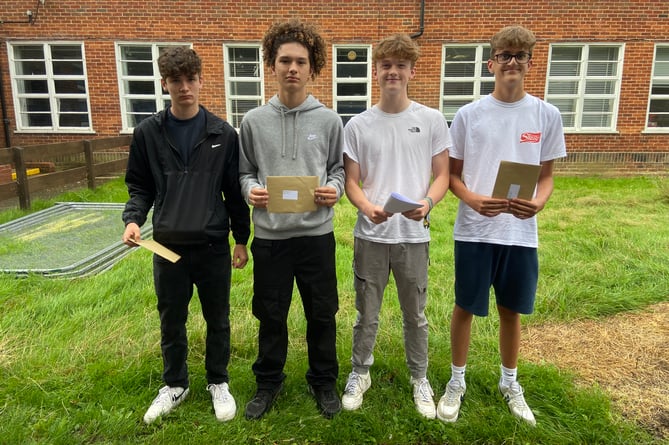 Among the boys collecting their results were, from left, Griff Pretsell, Theo Pinyoun, Tom Boyd and Joshie Pearce
(Alton Herald/Paul Coates)
"The school's core values of independence, creativity, active learning, resilience and empathy, and our school motto 'Education for Life', have helped ensure that our students are well placed to embrace all the challenges of this ever-changing world, with each and every one of them in the very best place to take those positive next steps into college, apprenticeships or training.
"We are incredibly proud as a school community of the achievements of the class of 2023. Our students are all exceptionally talented and inspiring young people who have demonstrated all the core values and qualities that Amery Hill School stands for. The resilience they have all shown over the last five years is remarkable and we wish them all every success, health and happiness for the future."