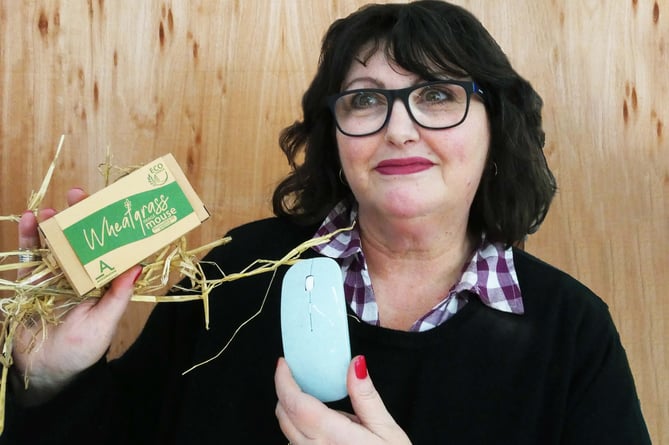 Ceratech Accuratus sales director Angela Lennox shows off the company's wheat grass computer mouse
(Ceratech Accuratus )
Subscribe newsletter
Subscribe to our email and get updates right in your inbox.
YOU CAN now dissolve your unwanted mouse inside a compost heap.
But lovers of pet rodents can relax – we're talking about the computer variety here.
And your redundant keyboard can go the same way as both are made with waste left over from wheat harvesting.
All the electrical components of the equipment produced by Ceratech Accuratus of Kingsley can be recycled, while the outside parts are environmentally friendly.
Angela Lennox – sales director of the company, which has made keyboards and mice for 36 years and moved into new larger premises at Ashridge Business Park in Forge Road last year – believes this can stop rubbish dumps filling up with discarded technology.
She said: "The average user would use a piece of kit for three years, because of fashion, but the component parts last about 25 years.
"We are the first UK company to be manufacturing information technology products from wheat grass – straw – which is a waste product of the wheat flour industry, instead of plastic.
"Our new Accuratus ECO Range is made using wheat grass polymer, which is a bio plastic.
"The straw naturally stands upright as the stem contains lignin, which is an organic polymer and provides the support structure for many plants.
"It is this lignin which is used to make our wheat grass polymer keyboards, mice, speakers and earphones.
"Lignin is broken down by bacteria and mixed with natural sugars to create a workable material which has a lot of the features of plastic without the added artificial chemicals and without using fossil fuels."
Angela explained the same bacteria used to help form the keys we type on and the cases holding everything together reverse the process.
She said: "The wheat keyboards and mice will eventually biodegrade. In a warmer ocean they will break down after three to six months.
"I put some in my compost bin as an experiment and they are already breaking down.
"They contain fruit sugars, so to break them down you need moisture and bacteria, which are quite easily available on land and in the sea. The material goes back to starches and sugars and becomes gelatinous.
"Wheat grass polymer is biodegradable, compostable, renewable, sustainable, non-allergenic and safe for our rivers and oceans."
Comments
To leave a comment you need to create an account. |
All comments 0