Members of the public are invited to take part in the event, which has been organised by Farnham Town Council and will begin at 7.30pm with the lighting of candles.
At 7.45pm, those present will gather near the bandstand to hear a few words from the Mayor of Farnham, Councillor Alan Earwaker, and the Mayor of Waverley, Councillor John Ward.
At 8pm, the gathering will join in a minute's silence with people in communities across the United Kingdom.  The minute's silence with be signalled by a whistle which will be piped by Farnham, Fleet and Aldershot Sea Cadets.
You can also hold this minute's silence privately at home, with friends and family, or on your doorstep or street with neighbours.
See below for the full programme of tonight's National Moment of Reflection service in Farnham:
National Moment of Reflection
on the Eve of the Funeral of
Her Majesty Queen Elizabeth II
April 21, 1926, to September 8, 2022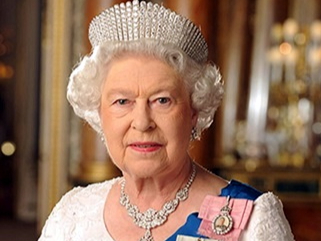 Queen Elizabeth II
(Buckingham palace )
Sunday, September 8, 2022, at 7.45pm
Gostrey Meadow, Farnham, GU9 7PT
7.30pm – Lighting of candles
7.45pm – Community gathers in Gostrey Meadow near the bandstand. Reflective music.
7.50pm – Welcome by Cllr Alan Earwaker, Mayor of Farnham:
Thank you all for gathering here this evening for this brief vigil on the eve of the funeral of Her late Majesty Queen Elizabeth the Second.
In a few moments we will join with people across,
Farnham, the Borough of Waverley and the United
Kingdom, in a Moment of Silent Reflection. The start
and end of the Minute here will be marked by the
Farnham, Fleet and Aldershot Sea Cadets.
Remembering Her Majesty Queen Elizabeth II
Cllr John Ward, Mayor of the Borough of Waverley
During the Minute we will have an opportunity, in silence, to reflect on the lifetime of service which Her Majesty devoted to the United Kingdom, the Realms and Territories and to the Commonwealth.
The Queen was sure in her faith and steadfast in her duty, bringing constancy through 70 years of change. We will remember Her Majesty with affection and gratitude and silently give thanks in our hearts for her unswerving devotion to us and to our Country.
7.55pm – Lament by piper Hamish Robertson, leading up to the minute's silence.
7.59pm – Mayor of Farnham:
Ladies and gentlemen, it is now approaching 8.00pm
8pm – The Minute's Silence
The Still piped by Farnham, Fleet and Aldershot Sea Cadets
8.01pm –Carry On piped by Farnham, Fleet and Aldershot Sea Cadets to signify the end of the silence
8.02pm –Prayers for Her late Majesty Queen Elizabeth II and King Charles III by Revd David Uffindell, Rector of St Andrew's Parish Church
8.04pm – The National Anthem
God save our gracious King,
Long live our noble King,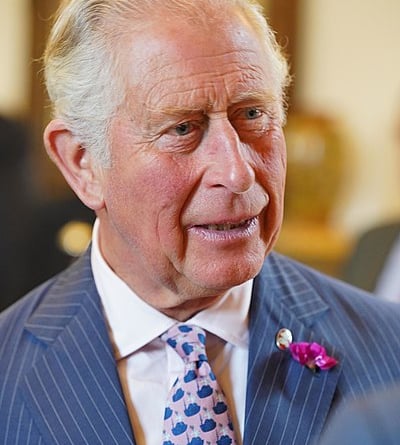 King Charles III
(Creative Commons )
A book of condolence is available in the gazebo for anyone to share their memories of Her late Majesty Queen Elizabeth II. It will also be available to sign until 5pm on September 20 in Farnham Town Hall.
The funeral of Her late Majesty Queen Elizabeth II is at 11m on September 19. It will be broadcast live on a big screen in St Andrew's Church from 10am. All welcome.
Floral Tribute by Poet Laureate, Simon Armitage
Marking the death of Her Majesty Queen Elizabeth II
Evening will come, however determined the late afternoon,
Limes and oaks in their last green flush, pearled in September mist.
I have conjured a lily to light these hours, a token of thanks,
Zones and auras of soft glare framing the brilliant globes.
A promise made and kept for life – that was your gift –
Because of which, here is a gift in return, glovewort to some,
Each shining bonnet guarded by stern lance-like leaves.
The country loaded its whole self into your slender hands,
Hands that can rest, now, relieved of a century's weight.
Evening has come. Rain on the black lochs and dark Munros.
Lily of the Valley, a namesake almost, a favourite flower
Interlaced with your famous bouquets, the restrained
Zeal and forceful grace of its lanterns, each inflorescence
A silent bell disguising a singular voice. A blurred new day
Breaks uncrowned on remote peaks and public parks, and
Everything turns on these luminous petals and deep roots,
This lily that thrives between spire and tree, whose brightness
Holds and glows beyond the life and border of its bloom.