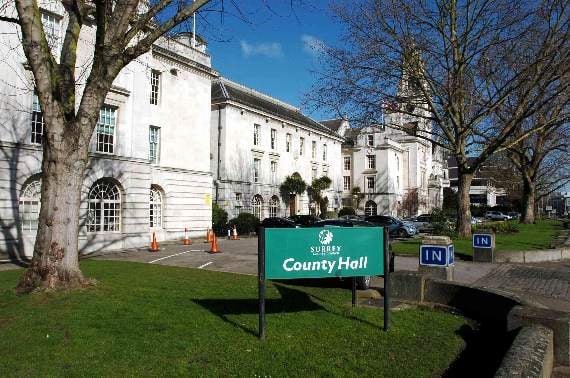 Subscribe newsletter
Subscribe to our email and get updates right in your inbox.
SURREY County Council has been forced to confirm its continued backing for the 'Brightwells Yard' redevelopment in Farnham - as the scheme was renamed this week - after it was revealed the council is facing a near-£100 million budget shortfall by 2021.
It comes after an independent review of the county council's struggling finances criticised Surrey's finance team for being "too top-heavy", discovered there is no "plan B" and concluded that the slow pace of administration partnership Orbis - a partnership with East Sussex County Council and Brighton & Hove City Council to provide core operational services such as finance, HR and procurement - has become a "hindrance to change".
The "deep-dive" review carried out by The Chartered Institute of Public Finance and Accountancy (CIPFA), to be presented at a cabinet meeting next week, also slammed the finance department for being "too passive", lacking sufficient drive and initiative to tackle the escalating issues with budget problems.
And it said bosses must act now because "as things stand, the council will not have sufficient reserves to meet its expected budget gap", which the CIPFA added has the potential to rise from £36m in 2018-19 to £86m by March 2020 and an eye-watering £94m by March 2021.
The county council has estimated it needs to make savings of around £250m by 2021 if it's to meet these budget gaps.
As well as shedding new light on the scale of Surrey's financial woes, the damning report has also cast a long shadow over Surrey's promised funding of the retail element of Waverley Borough Council and Crest Nicholson's long-delayed Brightwells development in Farnham, estimated to be worth around £50 million.
Surrey pledged to fund almost half the total £115m cost of the mixed-use development on land south of East Street in 2016 as part of its "support for economic growth in the county", removing a huge stumbling block for Waverley's plans after it failed to attract a private backer for the scheme.
However, discussing Surrey's perilous financial situation during a meeting of Waverley's overview and scrutiny committee on Monday, September 10, Witley councillor Nicholas Holder questioned what preparations are being made should Surrey follow struggling Northamptonshire council in effectively going bankrupt.
Mr Holder said: "Rather like the government preparing for a no deal Brexit, has [Waverley's chief executive Tom Horwood] looked at possible demise of Surrey County Council and the fact that the county will be broken up into four unitary authorities if that is the case? Perhaps we should make preliminary plans for that eventuality."
Mr Horwood did not respond to Mr Holder's query during the meeting.
But picking up on his concerns in a letter to this week's Herald, printed in full on page 23, chairman of the Farnham Theatre Association Anne Cooper - campaigning against the demolition of the Redgrave Theatre as part of the Brightwells works - has questioned "whether Surrey's demise would place Crest Nicholson Sainsbury's Brightwells scheme in jeopardy?"
Responding, both Surrey and Waverley councils provided single-sentence statements confirming their ongoing support of Brightwells - but declined to answer the Herald's question whether or not Surrey's promise of funding is now legally binding.
A Surrey County Council spokesman said: "We're continuing to back the Brightwells scheme and there's been no change to our involvement."
While a Waverley spokesman added: "Waverley Borough Council is pleased that Surrey County Council remains committed to investing in Brightwells Yard, which is set to bring a new lease of life to Farnham town centre."
It coincides with Waverley's development partner Crest Nicholson's update on the Brightwells works this week, including confirmation of the scheme's name change to 'Brightwells Yard'.
A spokesman for the developer explained: "In choosing Brightwells Yard as the new name of the Brightwells regeneration scheme, a variety of factors were considered. Ultimately inspiration was taken from the local area - a creative hot spot and craft town.
"It was felt that Brightwells is well established within the town and so it was important to preserve the name, which was then influenced by local heritage. Brightwells Yard follows in the footsteps of the existing historic yards in the town, in keeping with the unique style in Farnham."
Crest also confirmed the development - including a new six-screen Reel cinema, eight restaurants and a new 25-unit retail centre anchored by Marks and Spencer Simply Food, as well as 239 apartments - remains on track for a phased opening from spring 2021 and is set to be fully complete by autumn 2022.
Following the recent planning approval of the latest phasing programme, construction of the site's temporary access bridge in Borelli Walk is under way to enable construction traffic to access the site directly from the A31 and avoid the smaller town centre roads.
Beginning in October, one lane of the A31 will be closed for the duration of the bridge works, and will reopen when these are complete - expected to be in time for Christmas.
Borelli Walk has temporarily closed to enable the bridge construction, and is set to reopen in early 2019.Surr
Comments
To leave a comment you need to create an account. |
All comments 0