Lesley Reeves, who works for a charity at Waverley Abbey House, went out to feed the two swans which live on the nearby stream and made the gruesome discovery.
A green metal crossbow bolt was lodged in the male swan's neck.
Rescuers from the Shepperton Swan and Wildfowl Sanctuary took two days to catch the injured swan, and it was taken to the Middlesex centre to have the bolt removed.
One of the volunteer rescuers, Danni Rogers, said the swan was lucky to live through the ordeal.
"An inch either way and it would have been fatal – we would have been collecting the cob's body," he said.
"It was also very stressful for the female swan, the pen. Swans mate for life and we had to ask the people at Waverley Abbey House to keep an eye on the pen.
"The two swans are quite mature and we often hear that the stress of losing a mate causes a swan to die of a broken heart."
Several longer arrows were later found around the path, the lake and the ruins, and police are investigating the incident. Mr Rogers added: "Injuring swans like this is illegal – and attacking them with a crossbow or a bow and arrow could see someone spend a long time in jail.
"Unfortunately, we see quite a lot of this in Hampshire and Surrey – people attack geese and ducks as well as swans – although it's the first time we have ever seen it at Waverley. Whether it was youngsters or poachers, we just do not know."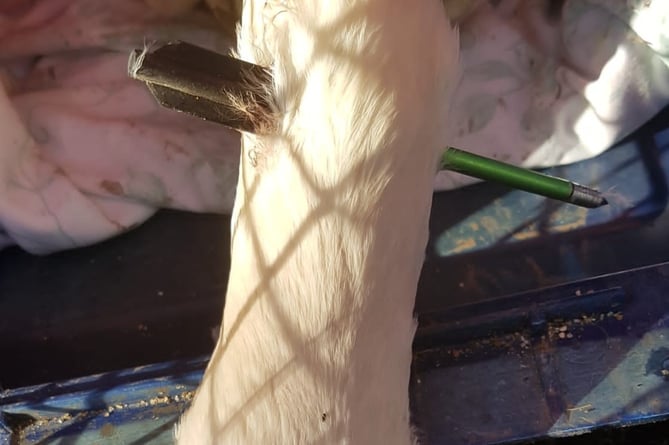 The swan survived the crossbow bolt attack
( Shepperton Swan and Wildfowl Sanctuary)