A car flipped onto its roof after a collision involving a mobility scooter in The Hart, Farnham on Thursday morning.
Police at the scene told the Herald the collision took place at around 11.45am close to the junction with West Street – but miraculously no-one was seriously hurt.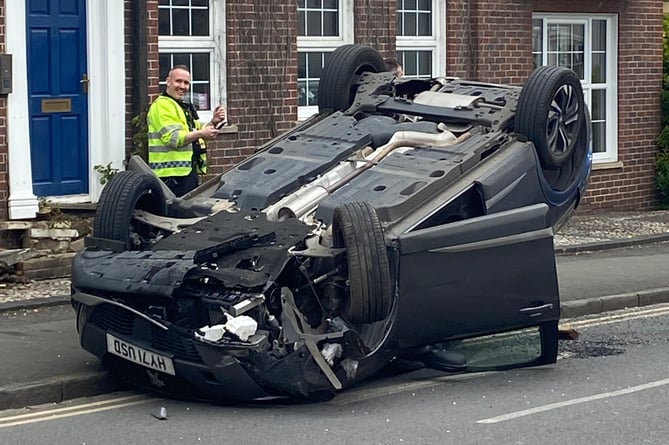 The driver of a black Peugeot 2008 was lucky to escape the crash without major injury after hitting the front of Maritime House and flipping over on Thursday, April 27
(Daniel Gee)
The smash involved three vehicles in total, including the mobility scooter, and saw a black Peugeot 2008 roll onto its roof after leaving the road and hitting the front of Maritime House.
According to an eye-witness, the Peugeot had turned right from West Street into The Hart when it swerved to avoid the mobility scooter as it was crossing the road.
The Peugeot flipped over after hitting the block of offices, while the driver of the mobility scooter also fell into the road.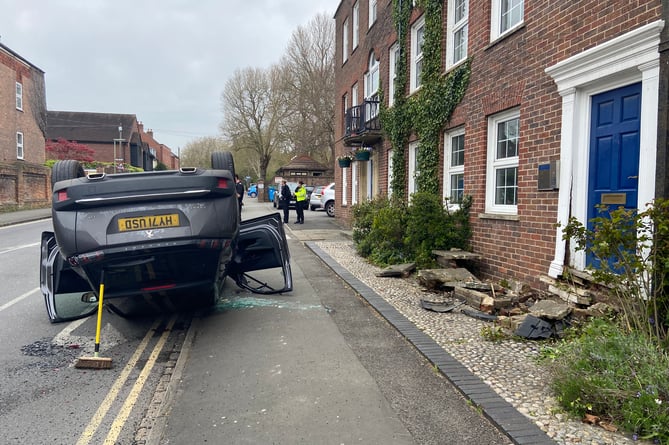 The front of Maritime House on The Hart was badly damaged in the collision involving three vehicles on Thursday, April 27
(Daniel Gee)
The driver of the Peugeot was able to escape from their car by themselves, and police said an elderly man driving the mobility scooter was taken to hospital but only as a precaution.
Three police cars and two ambulances attended the incident.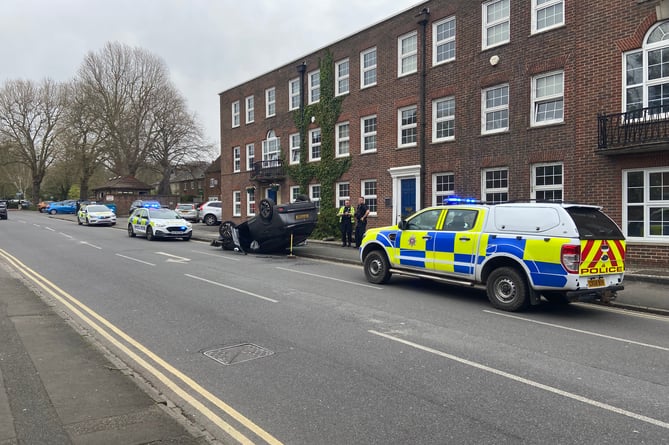 Three police cars were still at the scene of the three car smash in The Hart, Farnham, at around 2pm on Thursday, April 27, waiting for a recovery vehicle
(Daniel Gee)