THERE was nothing unlucky about A-Level results day at Churcher's College as 13 students got three or more A* results on an emotional morning in Petersfield.
Some 81 per cent of students applying for university places also got their first choice with four off to Oxbridge.
The latter includes Olivia Cropley as the Petersfield student got top marks for English Literature, Latin and French.
The high-flyer opted for Chinese Studies at University College and put her high marks down to lots of studying.
She said: "Every day I sat down and did hours of studying.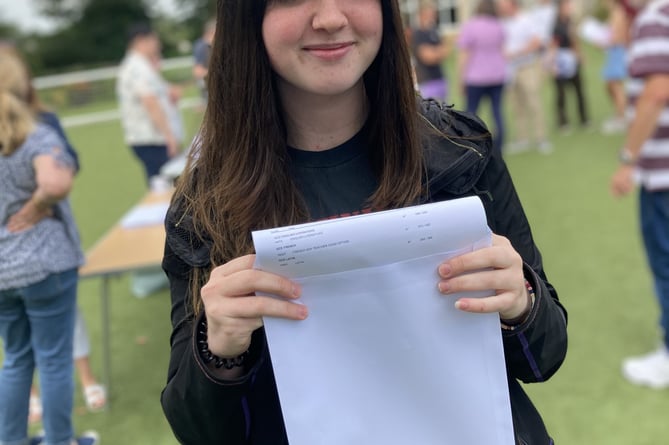 Olivia Cropley is off to Oxford after getting three A*s
(Tindle/Paul Ferguson)
"Because I really enjoy my subjects it didn't feel like a task or obligation, instead it felt like a privilege.
"I didn't really take a lot of time preparing for my GCSEs so I felt I had to shape up with my A-Level. I'm so happy it's paid off."
The summer examinations were the first that many sat through due to Covid and cancellations but doubts over their performance have now been quashed.
The Ramshill college achieved its highest ever percentage at the top A* to A grade with 26.9 per cent of pupils hitting the top spot.
That compared with 25.8 per cent pre-Covid, while the percentage getting three or more A* to C A-levels was 95.2 compared to 96.3 in 2019.
Exeter University seemed a popular destination among students, with Tom Dodgson and Libby Daunter heading to the Devon city.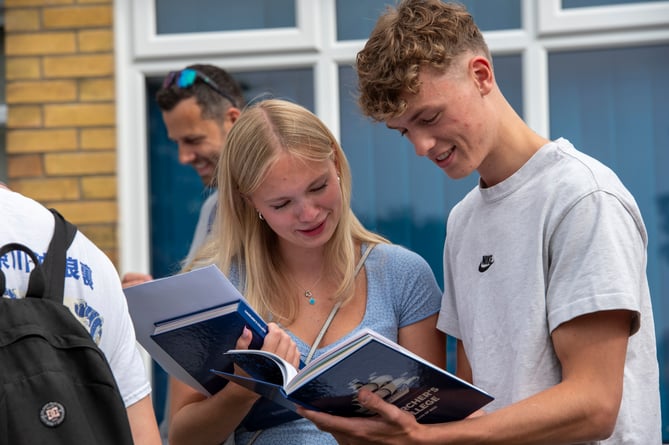 Smiles on A-Level results day
(© Chris Pearsall Photography)
"I've had a good day," said the former, who will study Geography and Economics after getting two As and one B.
"I felt at the time the exams went well but over the week that followed I started overthinking it and thinking about worse case scenarios," said Hindhead student Libby, who will study psychology after getting an A*, A and B.
"So I was pleasantly surprised this morning. There were lots of tears."